Spinach Frittata with Sun-dried tomatoes
Here's a great recipe I learned working at a top 5-Star Hotel. You can even "meal prep" it the night before and wake up to something tasty in the morning.
Spinach Frittata with Sun-Dried Tomatoes
Ingredients (Serves 3):
1 tsp. Olive oil
½ cup finely chopped onion (about ½ of small onion)
3 cups baby spinach
1/4 cup sun-dried tomatoes in olive oil, or dried reconstituted in hot water, drained, and chopped
2 whole eggs plus 2 egg whites
1 tbsp. water
¼ tsp. Sea salt
¼ tsp. Freshly ground black pepper
2 Tbsp. feta cheese (can sub goat or Parmesan cheese)
1 Tbsp. thinly sliced basil
Pair with 1 slice whole-grain toast or ½ cup berries (optional)
Equipment:
8-inch nonstick (small), oven-proof pan
Bowl for mixing eggs
Directions:
Preheat oven to 350 F or 176 C.
Heat a 8-inch nonstick, ovenproof saute pan over medium heat. Add olive oil and onion and saute 2-3 minutes, or onion starts to soften.
Then, add spinach and sun-dried tomatoes to the pan. Cook just until spinach is wilted, 1-2 minutes.
Meanwhile, in a medium bowl, mix whole eggs, egg whites with water (this makes them fluffier).
Pour eggs over spinach and sun-dried tomatoes in a pan. Add salt and pepper and mix briefly to distribute everything evenly.
Place saute pan in the oven in a middle rack and bake for 12-15 minutes, or lightly golden and eggs are not runny. Add the cheese in the last 5 minutes of cooking.
Cook the frittata until the egg starts to peel away from the pan and the edges are slightly golden brown.
Remove from the oven (carefully with pot holders) and top with cheese and basil. Slide the frittata off to a cutting board to serve. Cut into wedges.
*if you don't like sun-dried tomatoes, use ½ cup mushrooms instead. Saute them when you saute the onions. Cook until they just begin to turn golden brown, 3-4 minutes.
I hope you love the recipe! Snap a picture and tag me @chefjoannas on instagram so I see how yours came out.
Chef Joanna is a graduate of Le Cordon Bleu in Paris and is a private chef for the stars. She also hosts pop up dinners and cooking classes inspired by her travels around the world. You can find more of her work at www.chefjoannas.com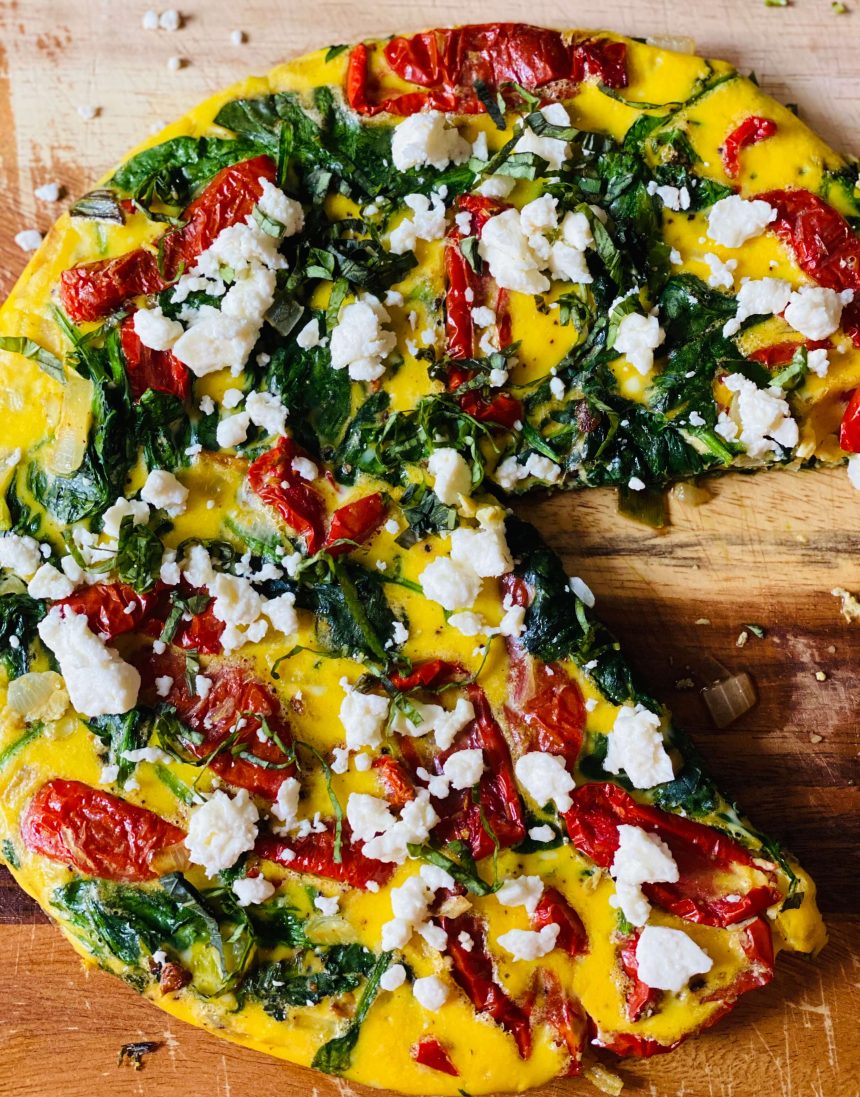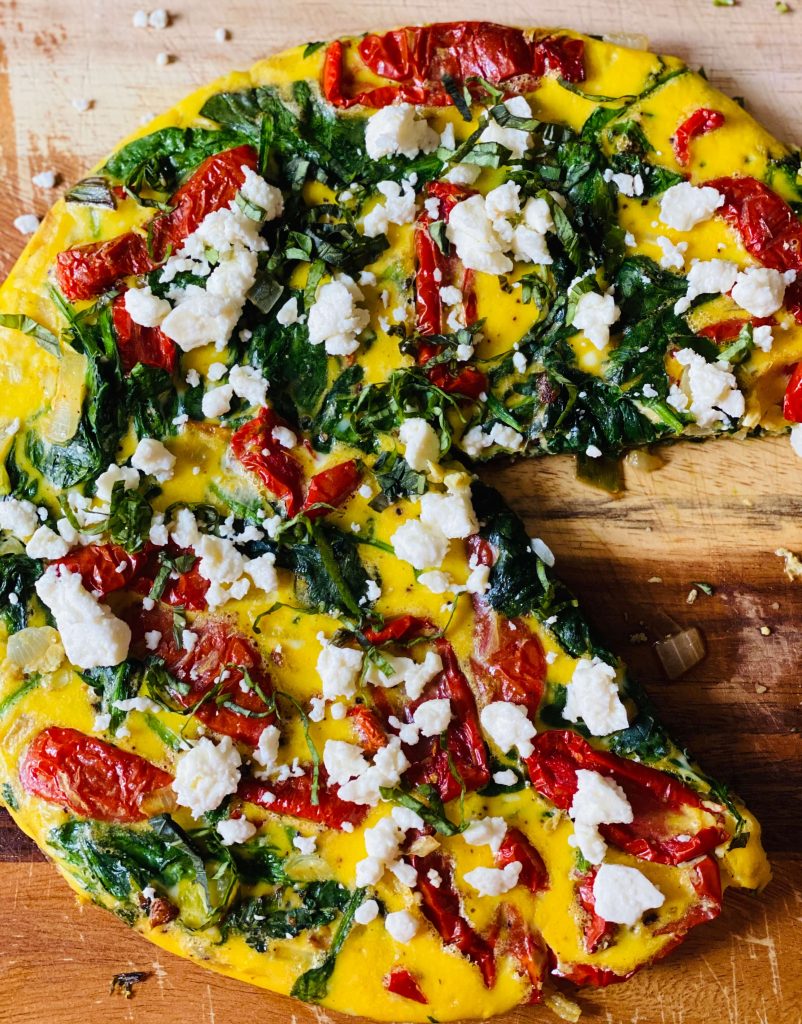 For More Chef Joanna's Kitchen Click Here.