PUHSD November Students of the Month
By Don Ray
The Perris and Menifee Valley's Chambers of Commerce have announced their five Perris Unified High School District Students of the Month for November. Nominated by teachers and staff at their respective schools, the students are selected for their character, integrity, love of learning, perseverance to overcome challenging circumstances, community service, and the manner in which they make a difference on campus.
The recognized students and their families were honored during a celebratory breakfast sponsored by the chambers along with local businesses and organizations. The attending business and government representatives are presented first-hand accounts of the student's accomplishments, as told by the educators. Each honoree received certificates of recognition, numerous gifts and hearty congratulations and encouragement to continue their paths.
All of these students demonstrated a desire to work hard and have a drive to exceed others and their own expectations.  The Perris Valley Chamber and the Menifee Valley Chamber wish them the best in their endeavors. If you wish to learn more about the Student of the Month Program, please contact founder, Sally Myers at (951) 506-8024.
Stephanie Rose Girard — Heritage High School
"She's literally 17 going on 30," one teacher observes about Stephanie. An observation that her father Stephen Girard agrees. "She pretty much makes good decisions all the time," he said. "And she lives by 'if you're not early, you're late.'" Stephanie's teachers describe her as an amazing leader who is kind-hearted, caring, and never afraid to put other's needs before hers. During her four years at Heritage High, Stephanie has exhibited a passion for the Future Farmers of America (FFA) organization where she raised award-winning pigs and goats. "This organization has shown me what it is to be a leader, showed me what it is to be a team worker, and shown me what I want to do in the future." As the first step toward that goal, initially, Stephanie intends to be a veterinary technician, on the path to practicing veterinary medicine.
Fatima Serna — California Military Institute
Fatima Serna says that her journey is one of perseverance, determination, and a belief in education.
"I will be the first in my family to graduate from high school and to go on to college in the United States," she reveals. It wasn't long before she went from playing the flute in the marching band to assuming the pressure-packed leadership position of drum major, where, if she makes the wrong move, everybody makes a wrong move.
"No one was there to teach her," band director Michael Tatum said, "so she had to learn on the fly."
Having mastered movement, her plan is to study kinesiology at San Diego State University with the goal of earning a doctorate in physical therapy, taking her talents to major league baseball. "I want to help athletes recover from injuries —to regain their strength and health," Fatima says. "She will be the one helping the community," teacher, Linh Hoang said. "She will give all her heart and her attention to you — without a doubt."
Arturo Romero – Paloma Valley High School
Arturo is shooting for the stars. Literally. Paloma Valley High Interim Principal Julie Blied recalls her introduction to Arturo, when along with a teacher, they inquired where they could launch a rocket. "Anywhere," she said. "It's probably going to go like 10 feet in the air. No problem." Umm, maybe a bit more. "This rocket goes all the way. like you can't see it in the clouds," Blied reports. "Kids are cheering." Arturo emigrated from Mexico with his family two years earlier — and he spoke little English. But soon, he became fluent and set his sights on outer space. "I want to study at the prestigious University of Caltech for its aerospace engineer program."
With his teachers' encouragement, he said, he and fellow students became state champions in an underwater science engineering competition and placed sixth internationally. They believe in me," he said of his teachers. "They motivate me to exploit my potential."
Jaylah Renae Coulter — Perris High School
In reflecting on her academic journey, Jaylah Renae Coulter recalls her challenges as a third grader. "I had some ADHD issues — some sensory issues," she said. "I was always bouncing off of walls, talking, talking, talking." Her educator mother arranged for her to switch to a class with a teacher who helped to turn her "curse" into an asset. "She really transformed me. Now I can handle being in a classroom, I can handle being calm. And I think that is what I hope to do," Jaylah said. "Now I'm the one who stands in front of 2,000 kids and leads our pep rallies." And so, she now intends to follow the familial tradition of education — becoming a third-generation educator. "I really want to carry that through in my career . . . and just allow other kids to tap into what they're good at so that they can be successful and have an amazing journey that I have had."
Hayden Daniel Hendricks — Liberty High School
"He always has a smile on his face," observes Liberty High School Principal Dr. Erika Tejeda when speaking of Hayden. "He encourages students, he uplifts them, and he's just so honest and charismatic with everyone. He's amazing." As the student leader for the students' section at football games, Hayden puts that spirit on display.
"Our mission at Liberty High School is to create a fun experience for everyone," Hayden says. "No matter if I'm looking goofy or what, I want them to have those memories. After high school, people that didn't get those will be like, 'Dang, I wish I would have volunteered or I wish I would have dressed up for that day,' because they will have those memories forever." Hayden says his dream is to have his own welding shop in Menifee. Rather than going directly to a trade school, his counselor encouraged him to first attend Riverside Community College — it's closer and more affordable.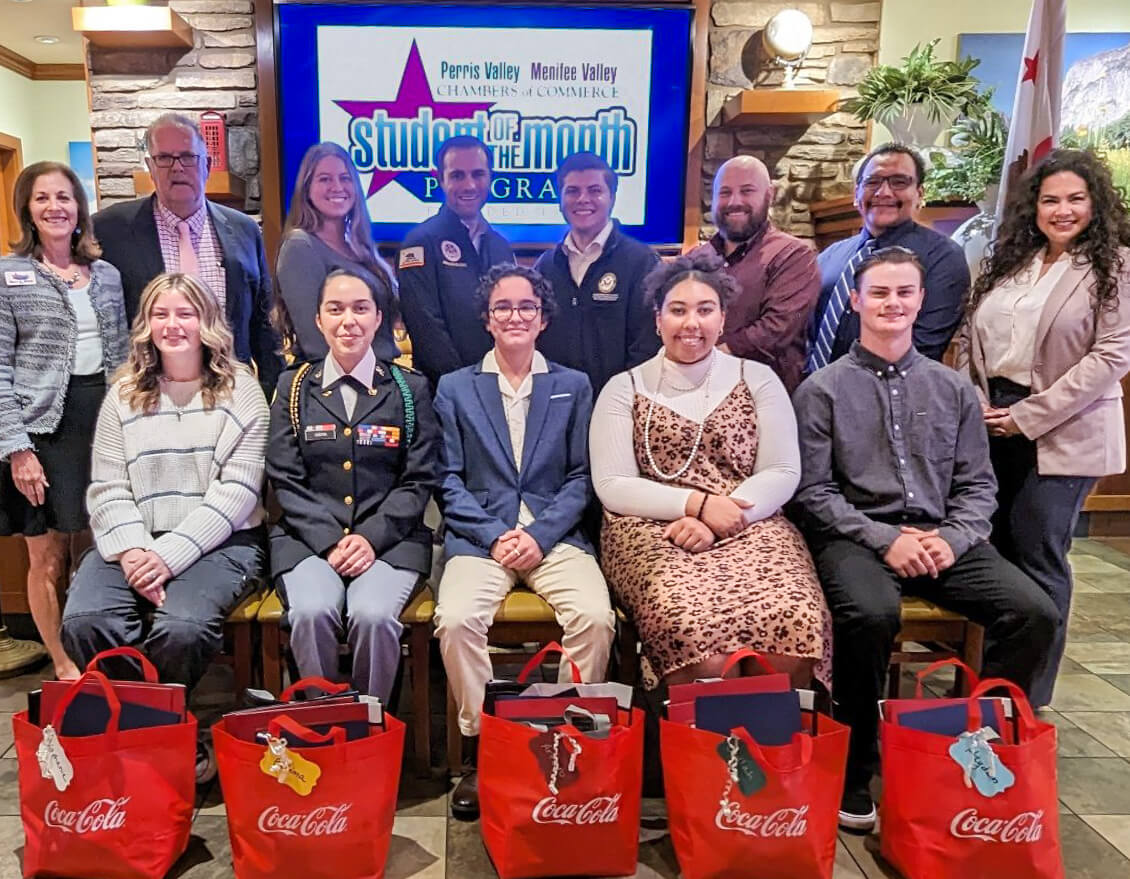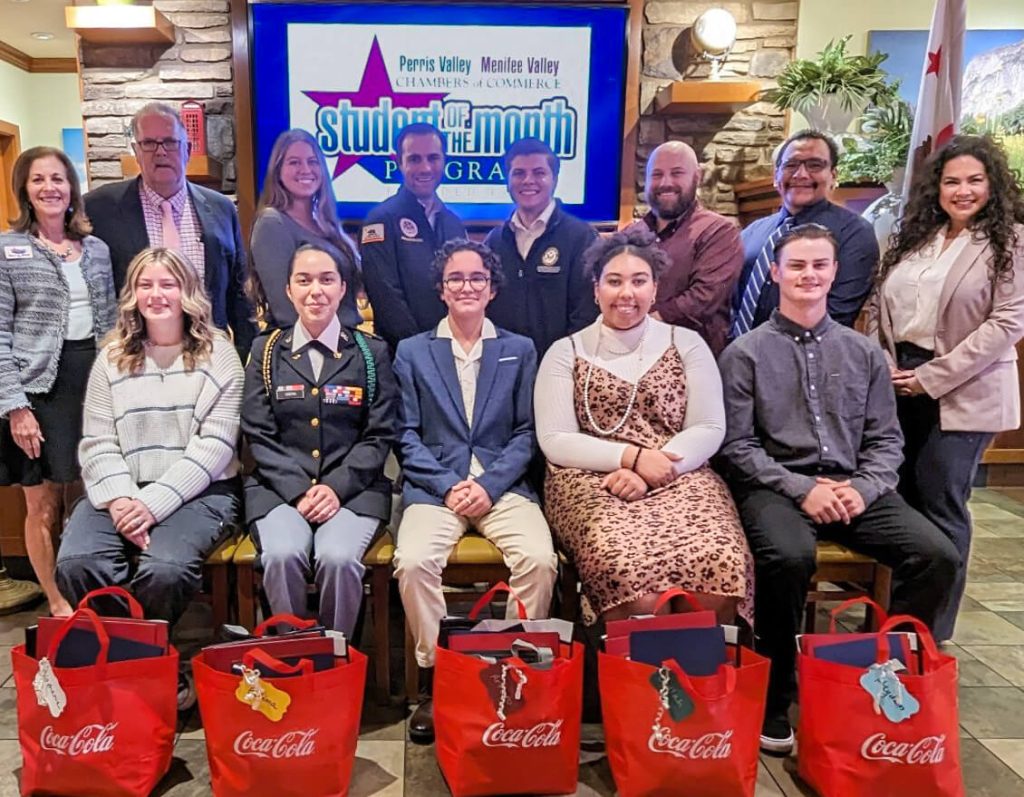 For More Education News Visit www.zapinin.com/education.