Cal Fire Riverside Assistant Chief Josh Bischof Remembered
"The man was our department's Swiss Army Knife –he could do everything."

~Division Chief Dan Olson, Cal Fire
By Don Ray
"I didn't want it to be super sad," Cheryl Bischof said about the Aug 24 Memorial Service for her husband, Cal Fire Riverside Assistant Chief Josh Bischof. 
"I mean, yes, it's going to be sad, but I wanted them to be inspired," she said, "and to realize how much he was loved.
"And how much good he did."
She says she knew that there would be hundreds there at Ontario's Toyota Arena to honor the 46-year-old helicopter crash victim and that they would live-stream the service on YouTube so that thousands more could honor him from afar.And so, she said, she created a slide show with her late husband's favorite music in the background — a slide show that could transport the attendees and the remote viewers back to her husband's childhood, through their own courtship, to the adventures they experienced as a couple and to the places they would later share with their children, Derek and Juliana.
"It's not just a story," she said afterwards, "because this is our life.
"And these are the values and the morals and everything that we live by."
That story, she said, could inspire others to make their stories a little better.
"When I think about life, and you know, our purpose here, it's to love God and love people and do the best that we can by each other while our time is here on Earth."
The thought of speaking in front of so many people at the service made her cringe, she said.
"In my discomfort in that situation, I wanted to honor what he did for us — more than that I felt scared.
"I just wanted to do right by him."Cheryl Bischof's plan seemed to have worked.
Pastor Fred Rodriguez skillfully and respectfully officiated over a service that was reminiscent of a military sendoff of a four-star general. Behind the pastor, in the arena, was a fire engine and a ladder from Indio Station 86 where Bischof and his best friends had worked together.
Also behind him were the protective jackets and other gear that Bischof had worn throughout his nearly 25 years working with Cal Fire.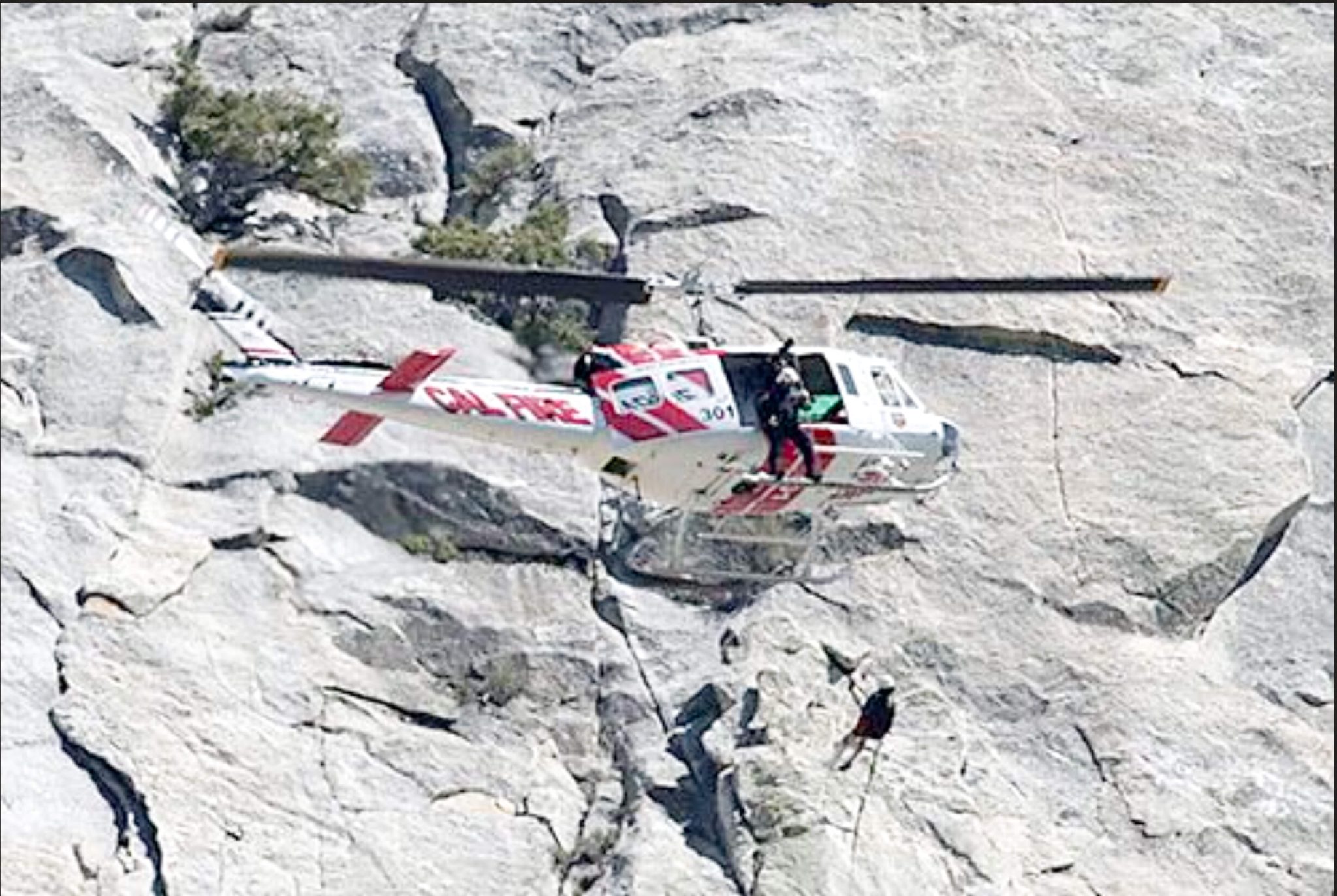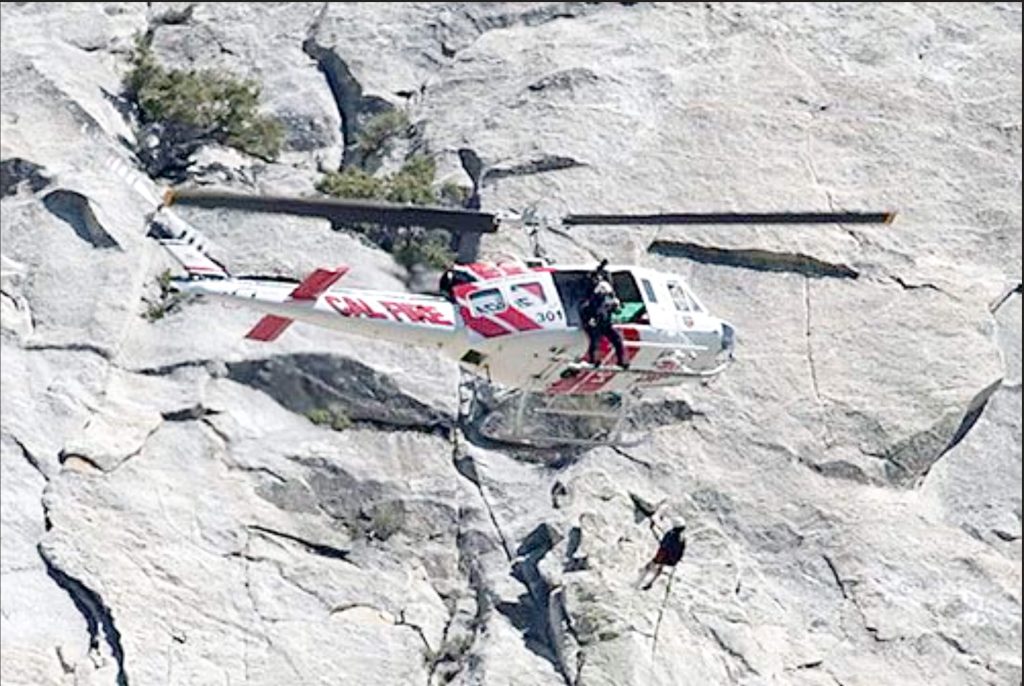 Riverside Cal Fire Chief Bill Weiser gave details of Bischof's tenure with the department, starting when he was a volunteer firefighter at Mountain Center Station 78. He worked with the San Bernardino National Forest Service with the Vista Grande Hotshots.
In 1998, Bischof became a full-time, Firefighter One stationed at Stanley Center Station 25. A year later, they promoted him to Firefighter Two at what was then known as North Indio Station 70. He would remain in the 16th Battalion for nearly eleven years. The department promoted him to Fire Apparatus Engineer at Station 87, and then to Fire Captain on Truck 86 in 2008.
He moved to the Hemet-Ryan Air Attack Base in 2013 — first as a Hilltop Captain on Helicopter 301, and then as the Air Attack Captain on Air Attack 310.
They promoted him to Battalion Chief for Menifee Battalion 13 in 2016. In 2020, Bischof transferred back to Hemet-Ryan Attack Base where he worked on just that — Air Attack.
In March of this year, he became Assistant Chief with Cal Fire's Southern Region where he would oversee the training program.
Next, he transferred to the Tactical Air Operations.
On August 6, his career and his life ended when the helicopter in which he was directing the fire attack below collided with another helicopter over Cabazon, just east of Banning. Cal Fire Captain Tim Rodriguez and their pilot, Tony Sousa, also perished. The pilot of the other helicopter was able to land safely.
Aside from his wife Cheryl, Josh Bischof leaves behind his son Derek, his daughter Juliana, his father Larry, his mother Suzanne, his brothers Noah and Matt, and his sisters Harmony Starr and Kristin Allison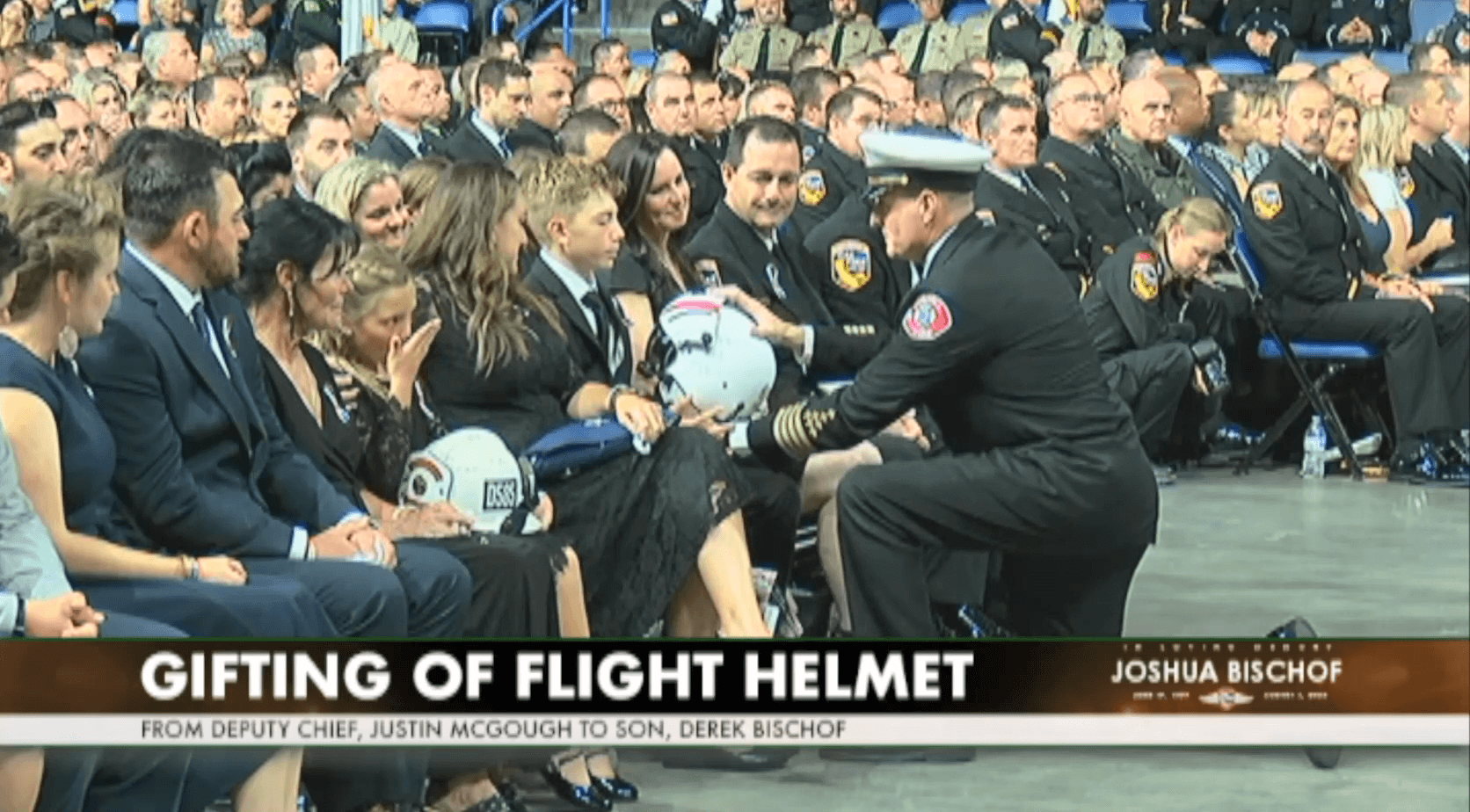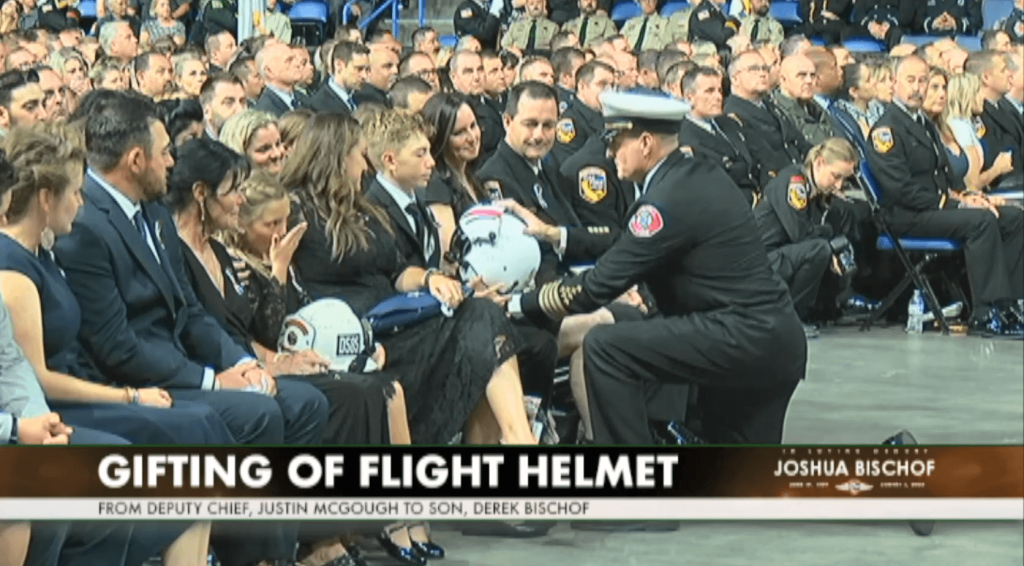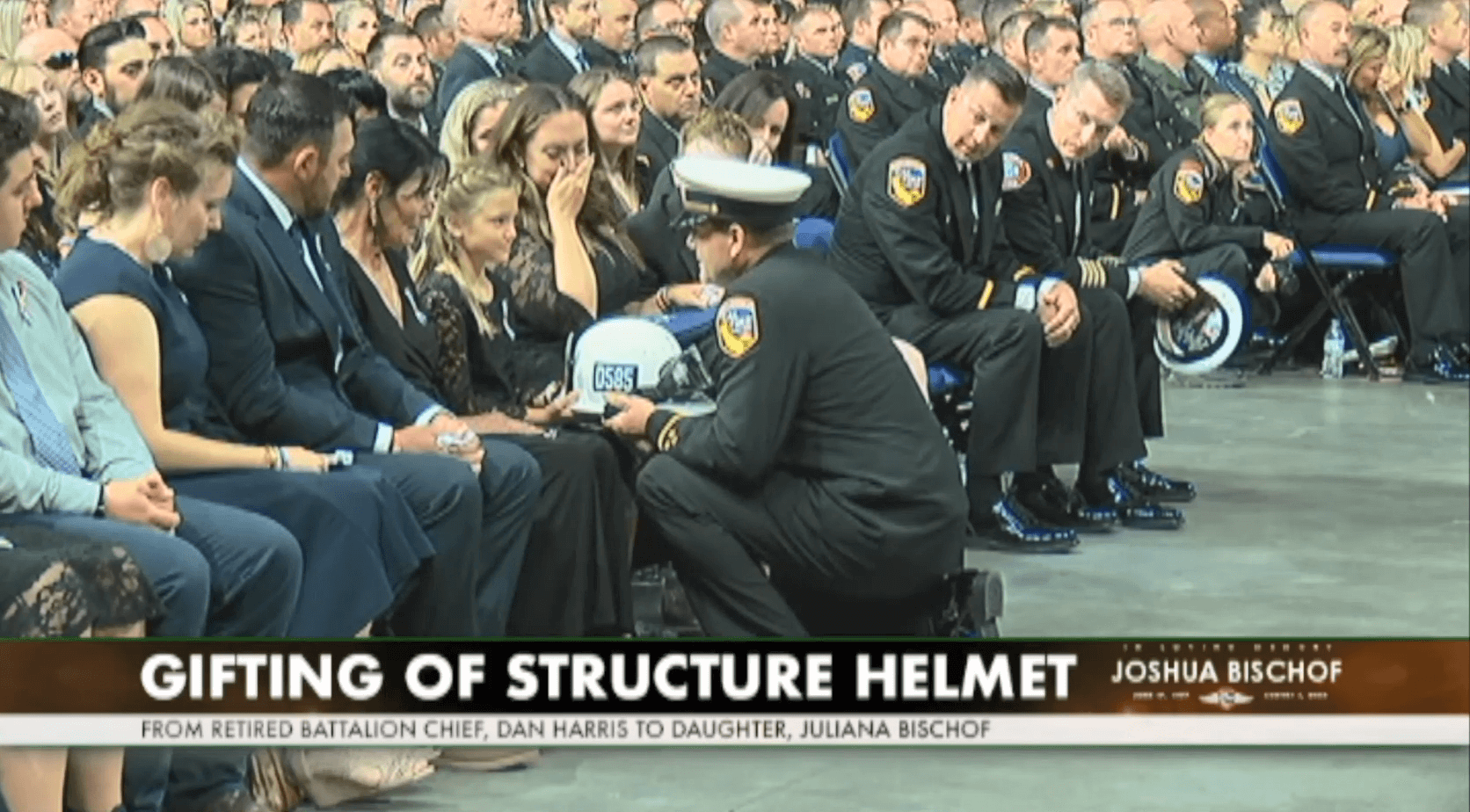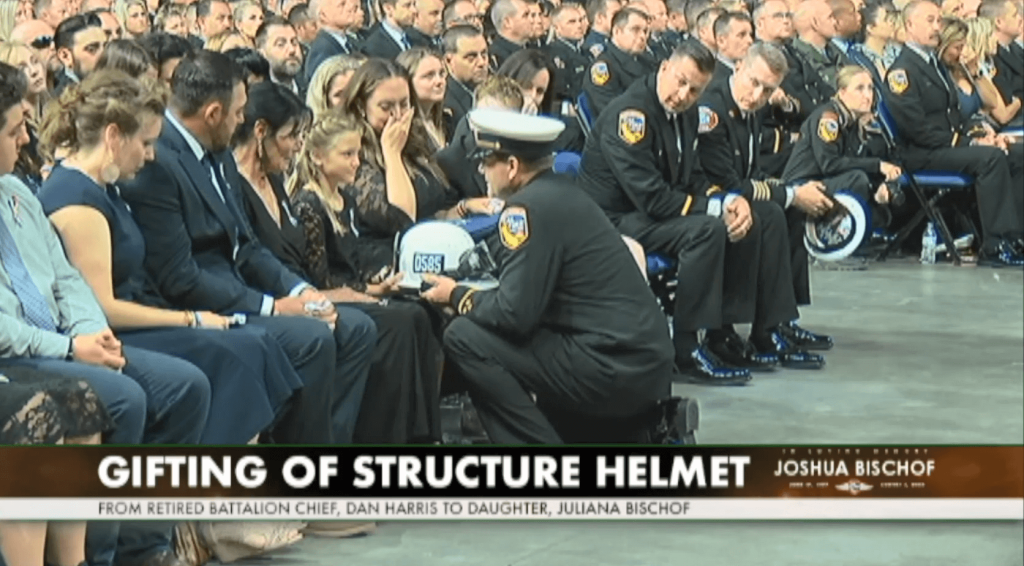 Cal Fire Director and Chief Joe Taylor addressed mourners for the second time in four days. He called Bischof a true leader who was skilled at his craft — whether it be in aviation-related incident management, training, or fire ground operations.
"You are in our hearts, and our prayers," he said directly to Bischof's family in the first row.
"We will never forget Josh, nor will we forget you. This fire service family will be here when you need us,"
Brothers Dan and Lonny Olson and Justin McGough, all fellow firemen, were among Bischof's closest friends, and they shared a microphone to reminisce, reflect upon, and honor their fallen brother.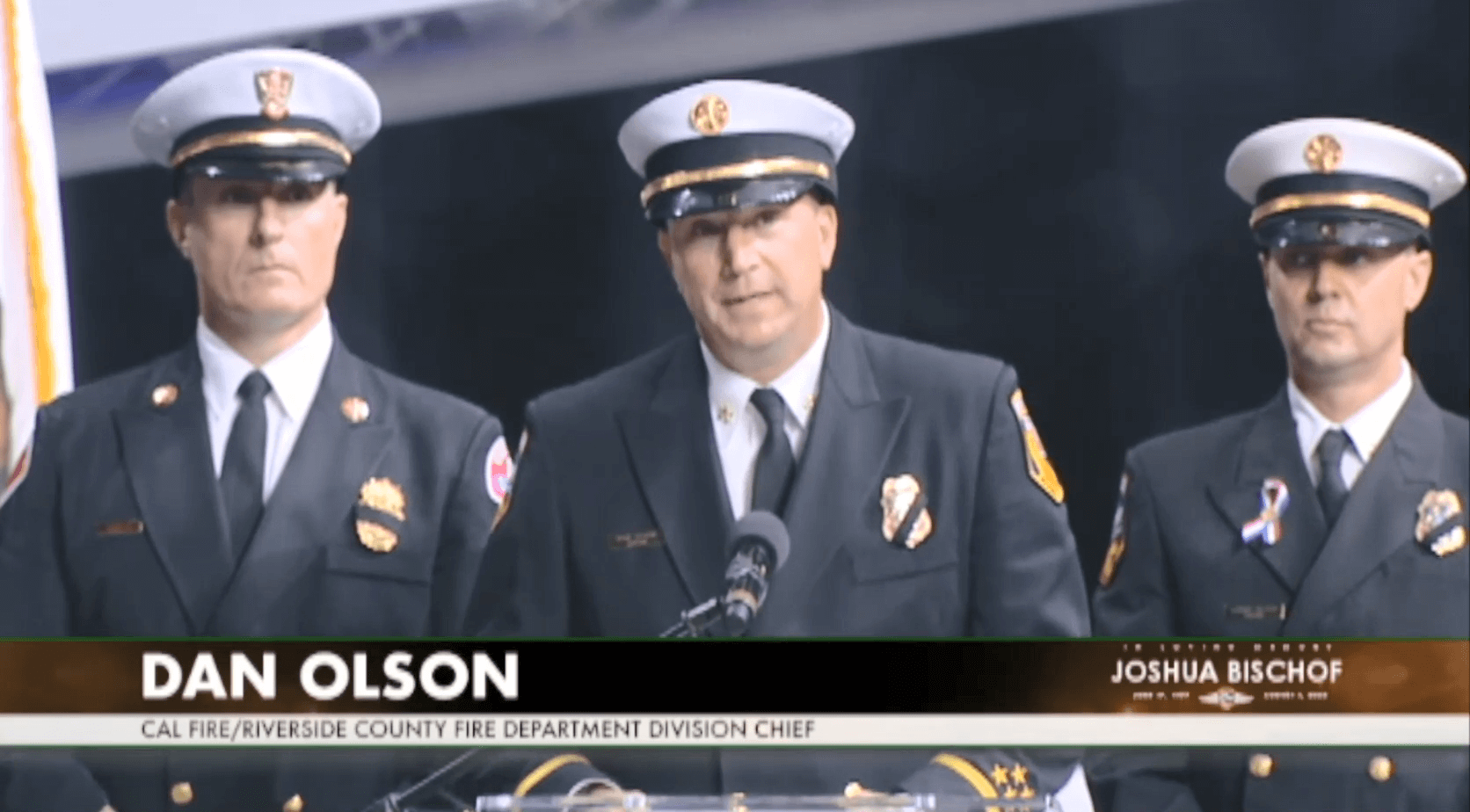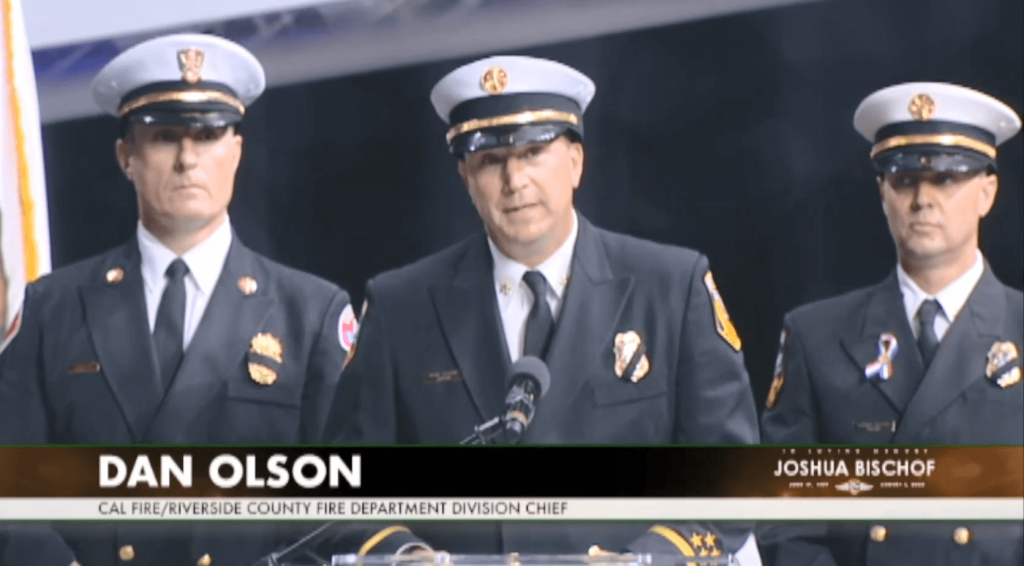 Dan Olson remembered the impact his close friend had on others.
"Whether he was on duty or off, Josh was inspirational," Olson said. "He motivated others to be the better versions of themselves.
"The man was our department's Swiss Army Knife –he could do everything."
"Dan Olson recalled the days he, Josh, and their other firefighting buddies would spend most of their days off with each other."
"We would spend our three-day shift together running calls nonstop," Olson said, "with minimal sleep, only to go home, turn around and get together on most of our days off."
Lonny Olson reminded everybody present that Bischof's legacy is not solely defined by his accomplishments or accolades.
"Although those were impressive," he said, "he's defined by the countless lives he touched, lessons he imparted, and the unwavering support he offered everyone fortunate enough to cross his path.
"Iron sharpens iron. They say Josh was that iron."
And just as Cheryl Bischof's slide presentation would soon do, Lonny Olson touched those who were present to honor Bischof in another way.
"Now I ask those here today, and everyone watching from afar, if Josh was your mentor, please stand up."
Many people stood.
"Please stand up," he said, "if Josh ever made you a better person in your personal or professional lives."
More people stood up.
"Many of us can stand up today because he stood with us in the past.
"He was a mentor who didn't just offer advice from a distance, but who actively engaged with us," Lonny Olson said, "guiding our decisions.
"His impact is woven into the fabric of our personalities, our values, and our accomplishments."
"Derek and Juliana, look around you. We are the legacy of Josh Bischof.
"Please be seated."
Justin McGough said that Bischof was never afraid to be his true self.
"Or embrace his passions, maximum effort," he said. "And this authenticity — combined with his passion — made him a true inspiration.
"He should remind us all that life is too short to be held back by fear or skepticism," McGough said, "and to continue to challenge yourself and try new things."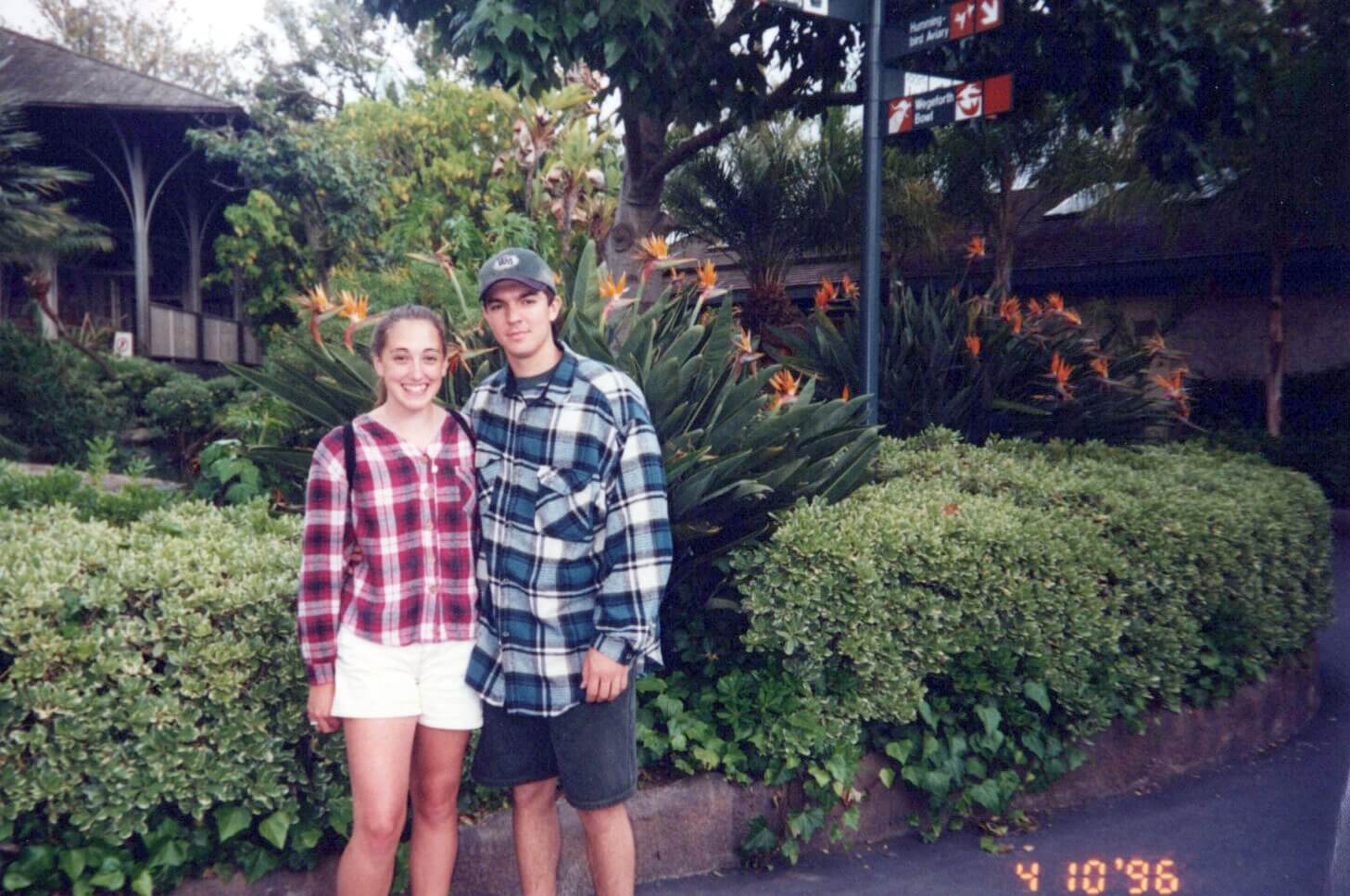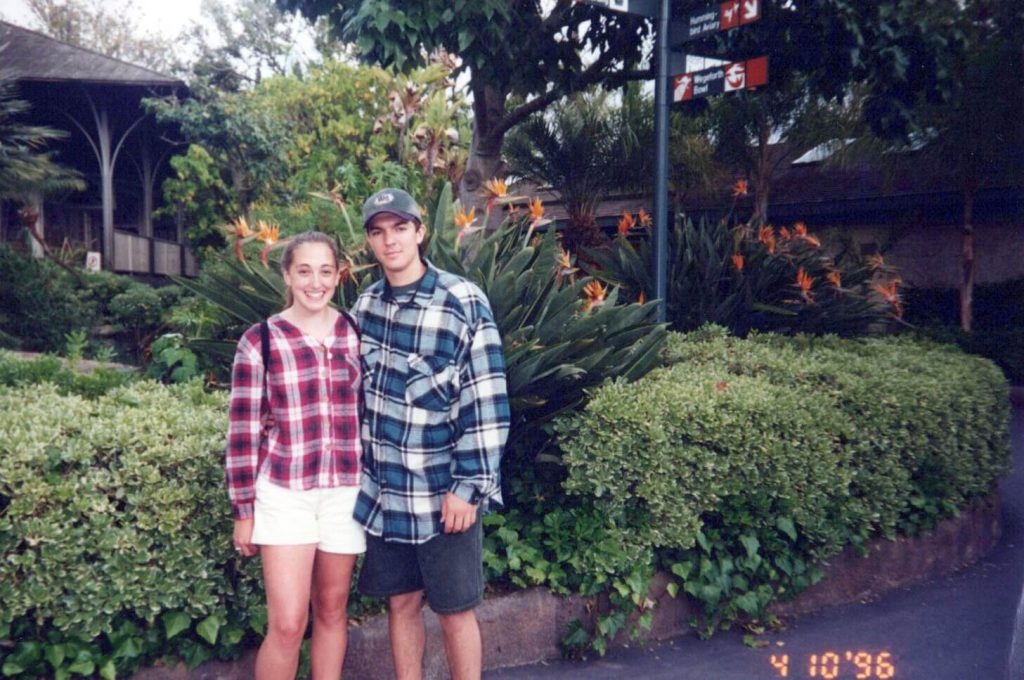 Bischof's wife Cheryl disclosed that from the moment their eyes first landed on each other, her 15-year-old heart knew that it was love at first sight.
"We fell head-over-heels for each other and became inseparable," she said.
"When we were pulled away from each other by a fire assignment, our countdown would begin — to when we would be back in each other's arms."
She remembered how, during the first ten years of marriage, they had experienced the times of their lives traveling — loving life, Mexico, the Caribbean, the Mardi Gras, Hawaii, Brian Head Ski Lodge in Utah, Lake Shasta and more.
"The next trip was always planned before the last one ended," she said.
"Then, I had the privilege of watching my husband transform into a phenomenal father— a proud daddy to our Derek and Juliana."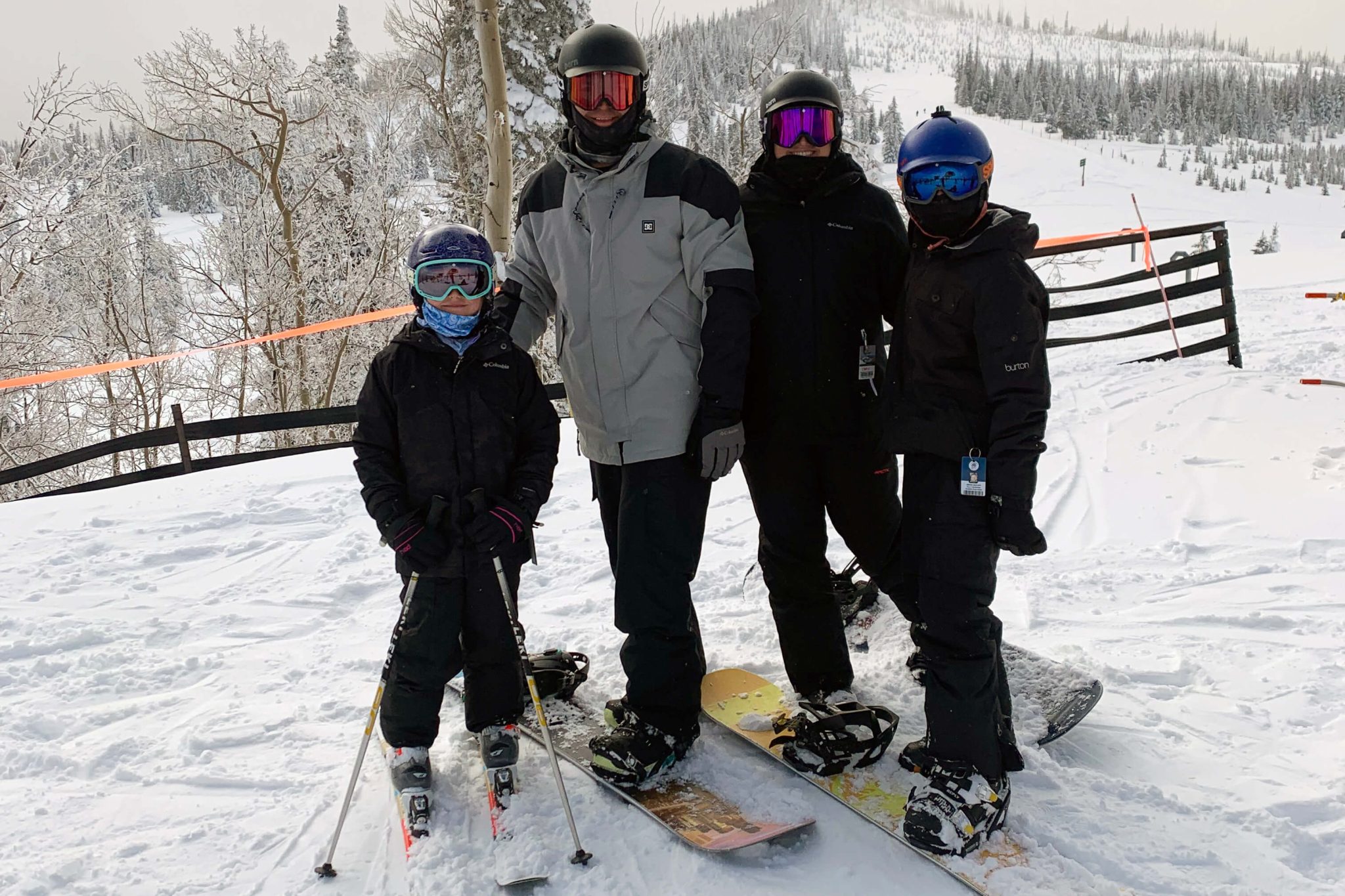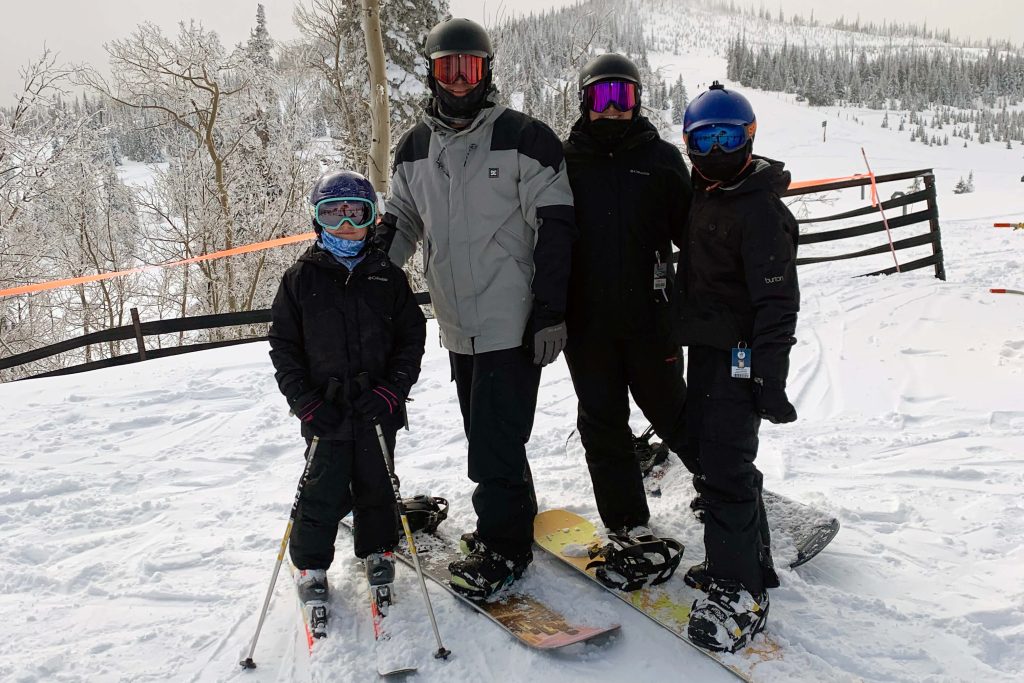 The adventures would continue, but as family adventures, Cheryl said.
"We just had to pack more stuff to make them happen."
She itemized all the things Josh would do to be a big part of his children's lives.
"He would spend countless hours playing Hot Wheels, Legos, playing catch, Calico Critters," she said, "and, yes, even the occasional Barbie just to make the baby girl smile.
"He taught us to live big. We promised to do the same.
"He left us a tremendous foundation upon which to rebuild," she said. "What we have settled on is that we choose to be grateful for the time that we had with him.
"We will take the life cut too short, the big fairytale life," she said. "We lived the life and never settled over having a mediocre father or husband for the long haul.
"It is by God's tremendous grace that we got to call him ours."
With that, her slide show of their shared memories began.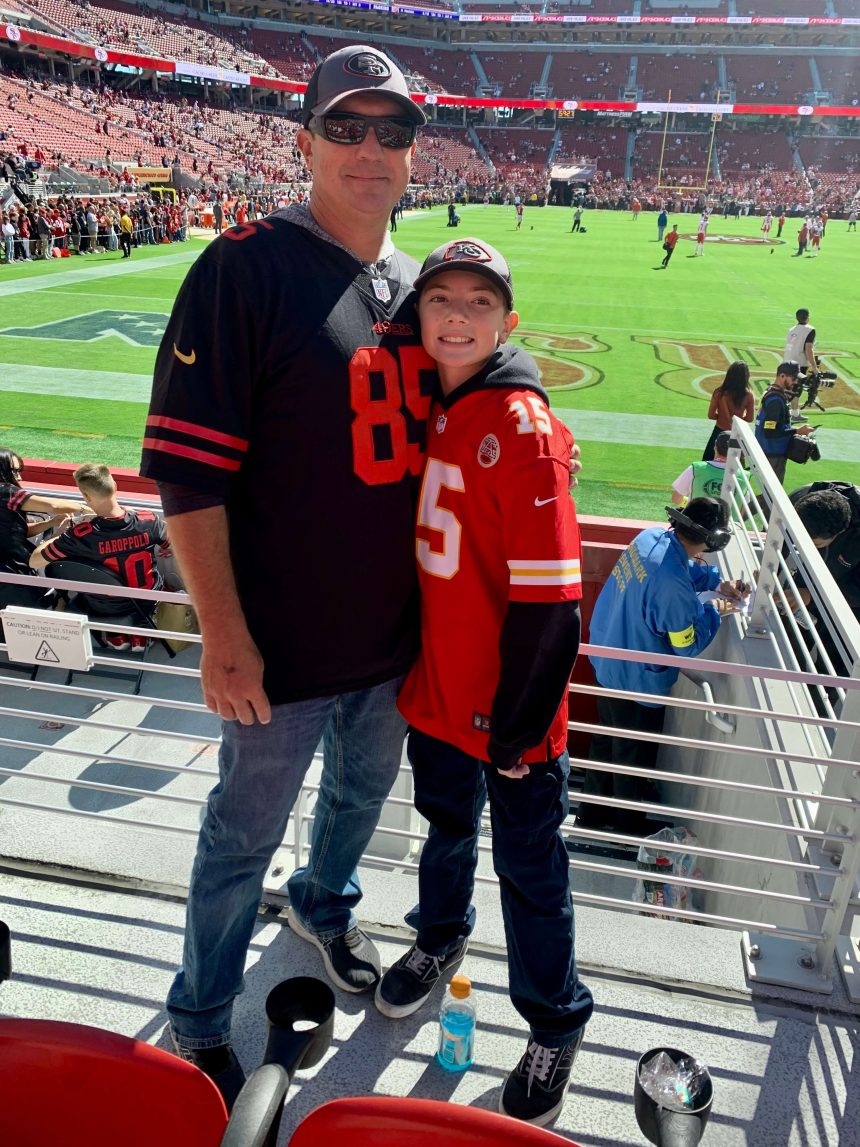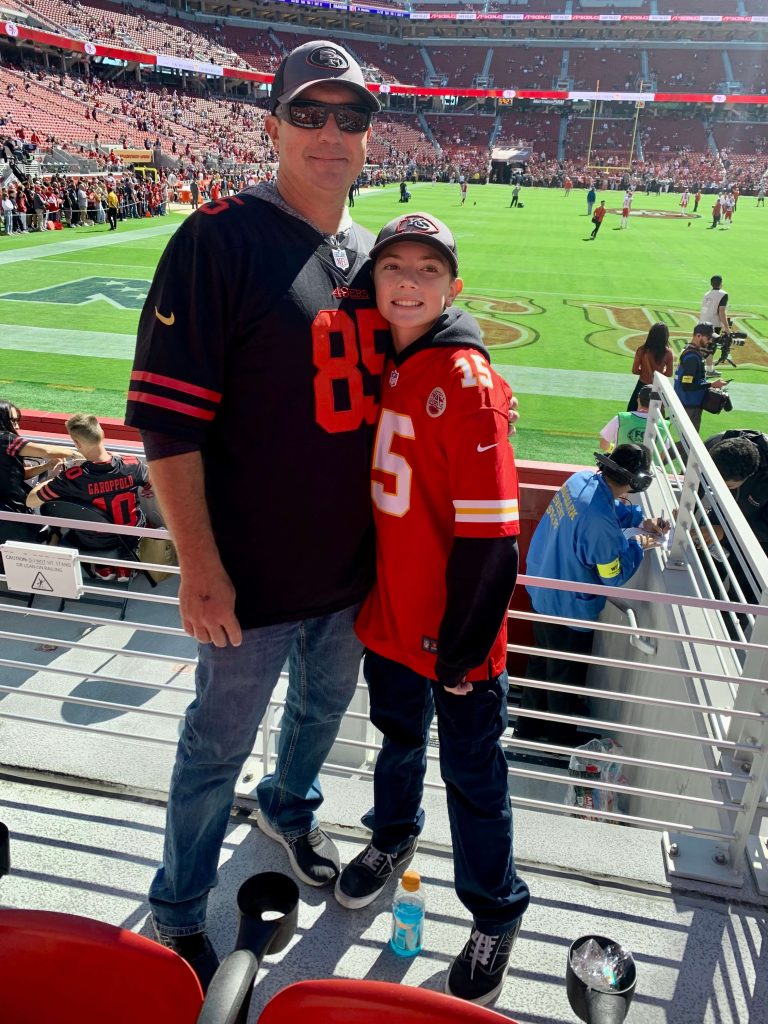 for More Local News Visit www.zapinin.com.