Tim Rodriguez Eulogized
By Don Ray
"He's the most sweet and understanding person I've ever met," Josh Becerra said of his late father — speaking in the present tense. "Whenever I'm with him, I've always felt so safe and comforted.
"He's the most honest and reliable human I've ever met in this world.
"I can always count on him with anything and everything."
The memorial service on Monday for this larger-than-life firefighter necessitated a larger-than-usual gathering place — in this case, the Ontario Convention Center.
Even then, the Riverside County Fire Department live-streamed the solemn tribute honoring Fire Captain Tim Rodriguez. That way, countless thousands of friends, colleagues, and admirers everywhere could attend remotely.
Rodriguez died doing what his friends and family said he loved the most — flying aboard a helicopter, above a fire, while he assisted firefighters on the ground.
The helicopter he was in on Sunday, Aug.5, collided with another Riverside County helicopter above the city of Cabazon, west of Palm Springs. Rodriguez, Cal Fire Assistant Chief Josh Bischof, and contract pilot Tony Sousa died in the crash. The other ship was able to land safely. 
His widow, his son, his friends, and his superiors eulogized Rodriguez — and painted an interconnecting portrait of someone everyone would have wanted to have had in their own world.
"He was an amazing husband, father, who loved his family more than life itself," his family members wrote for Fire Department Pastor John Hunter to read aloud. "He treated his coworkers with respect, and in return, he was well respected."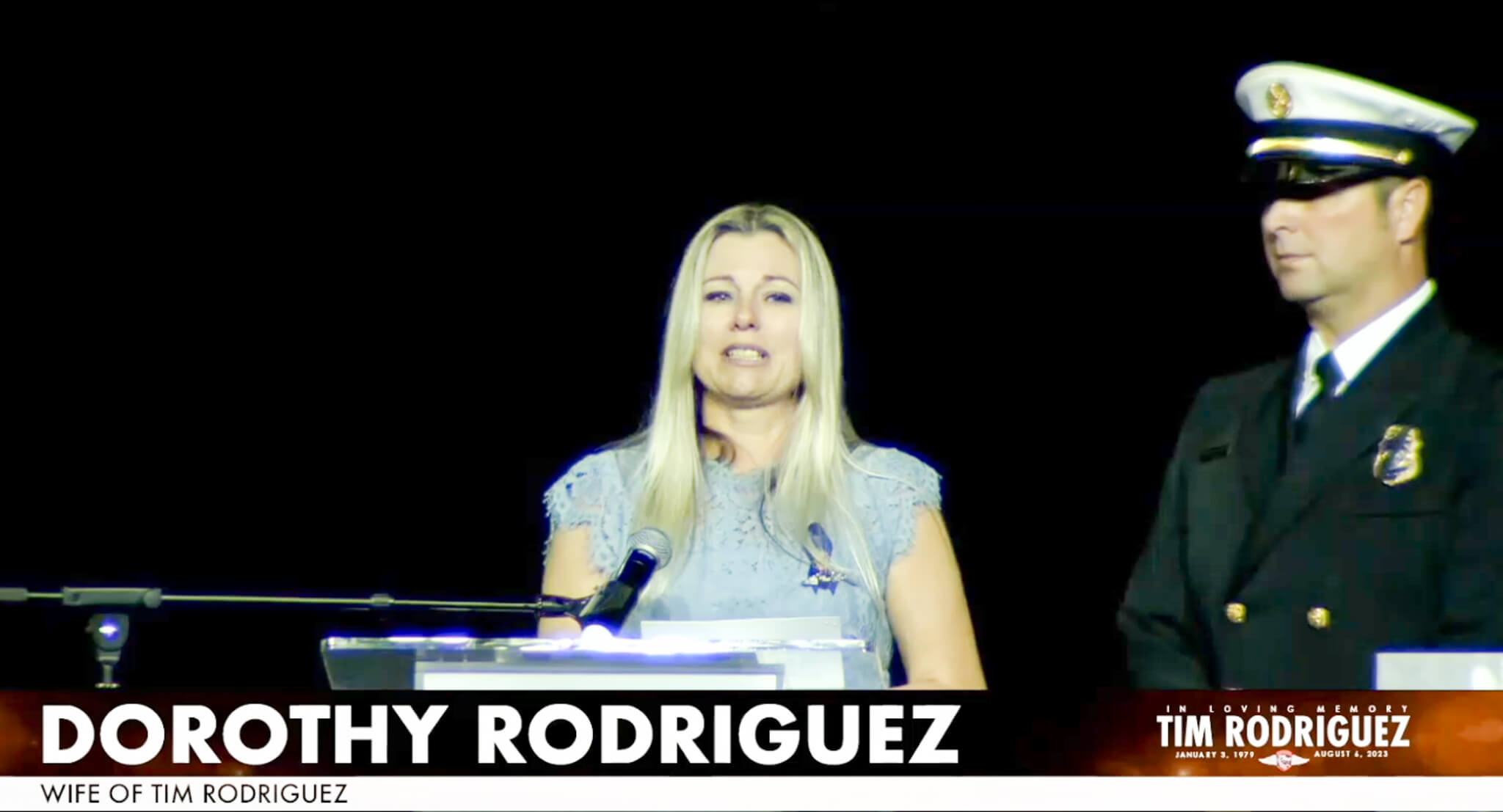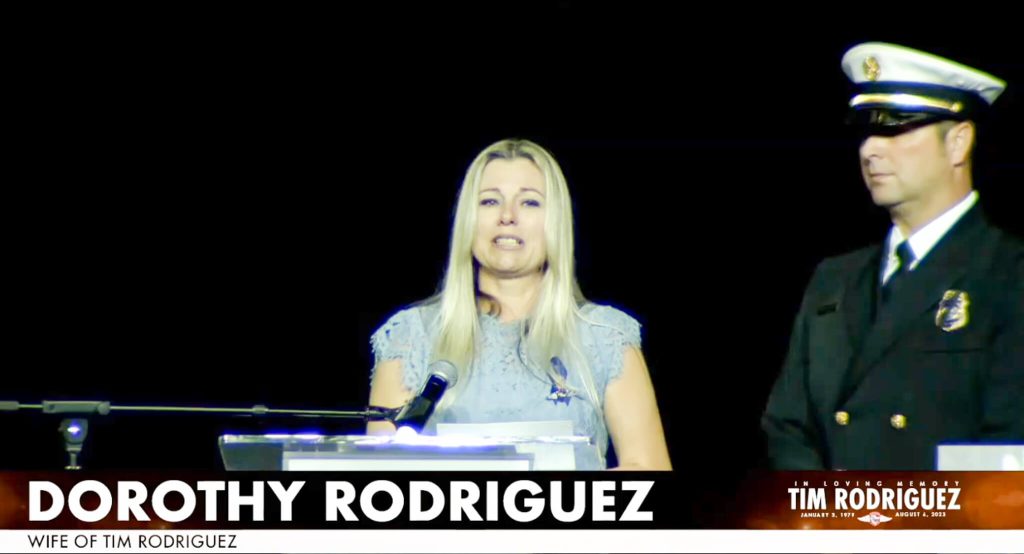 Dorothy Rodriguez told the mourners that her late husband was always there for anybody who needed guidance or help.
"When Tim made a friend, that friend was for life," she said "Tim always had a way of looking past anything negative, and of always seeing the good and the potential in somebody.
"He never gave up on you. Tim would never look down on someone unless it was to help them up."
One of those "friends for life," Hemet Pastor John Scott, said he met Rodriguez, or 'T-Rod' as his friends called him, when the two encountered each other while mountain biking.
"I was like 16 years older than Tim," the pastor said, "But when we first met, I could literally beat him up the hill and it bothered him. He was competitive."
So then, Pastor Scott says, T-Rod got himself a Peloton exercise bike. It was only a matter of time before the firefighter began to take the lead.
"And I got used to seeing the back of Tim up the hill."
Pastor Scott spoke of a common friend that he and Rodriguez shared — a friend who would see the firefighter up close on emergency calls.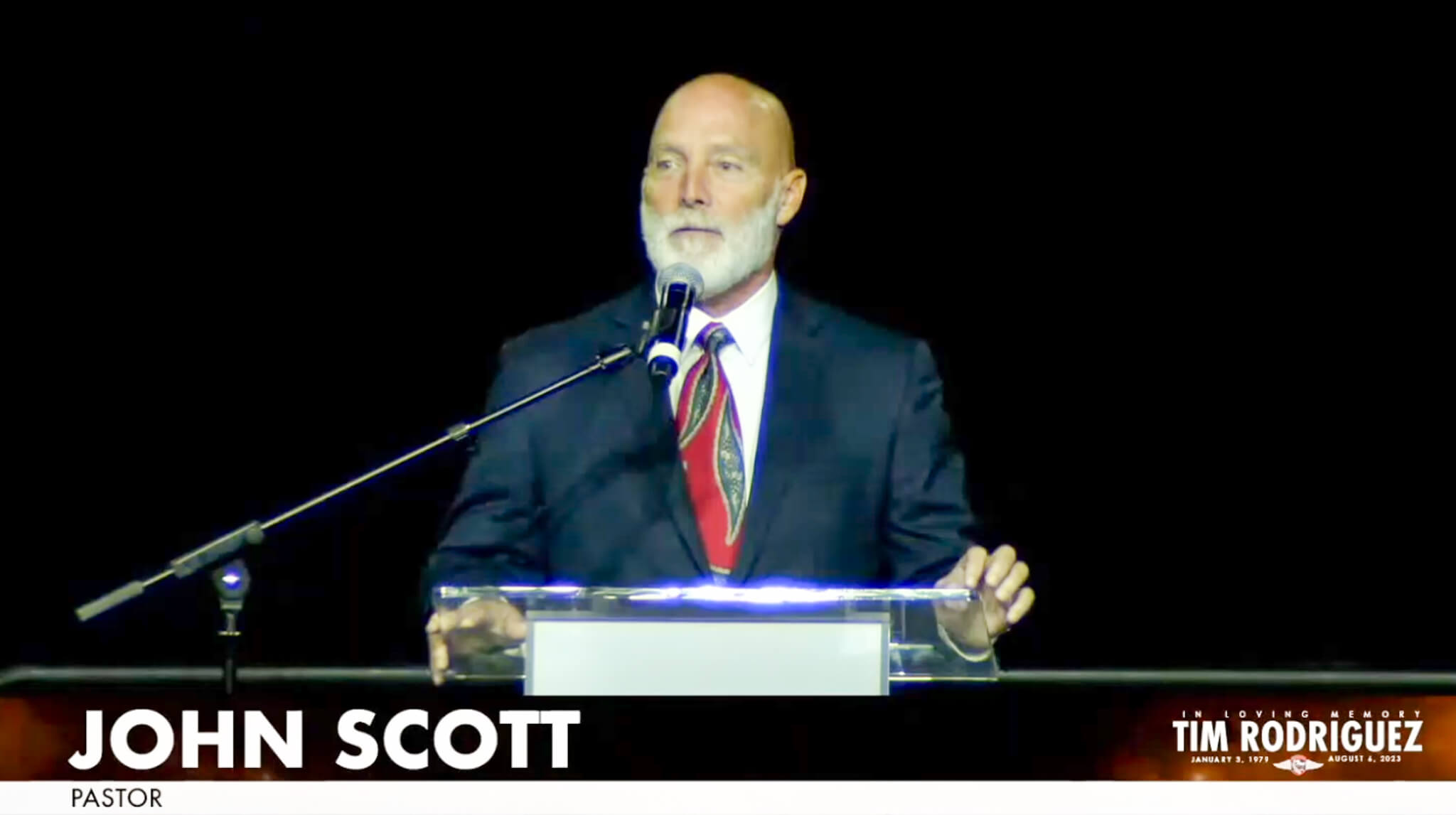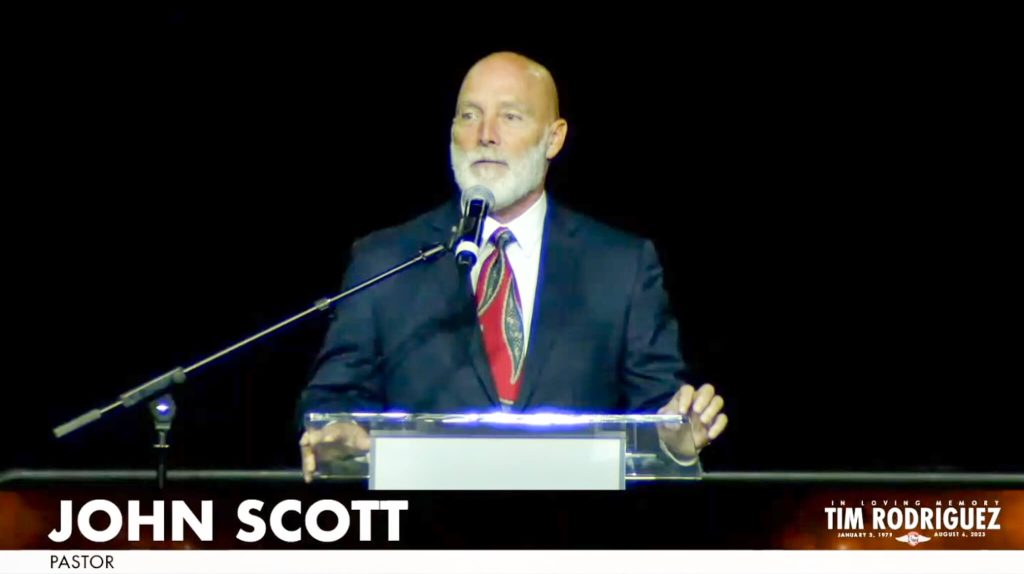 "He said Tim was 'The Guy.' When we'd be in the middle of an incident he said (Tim) would look around he would make sure everybody was OK —make sure everybody had what they needed."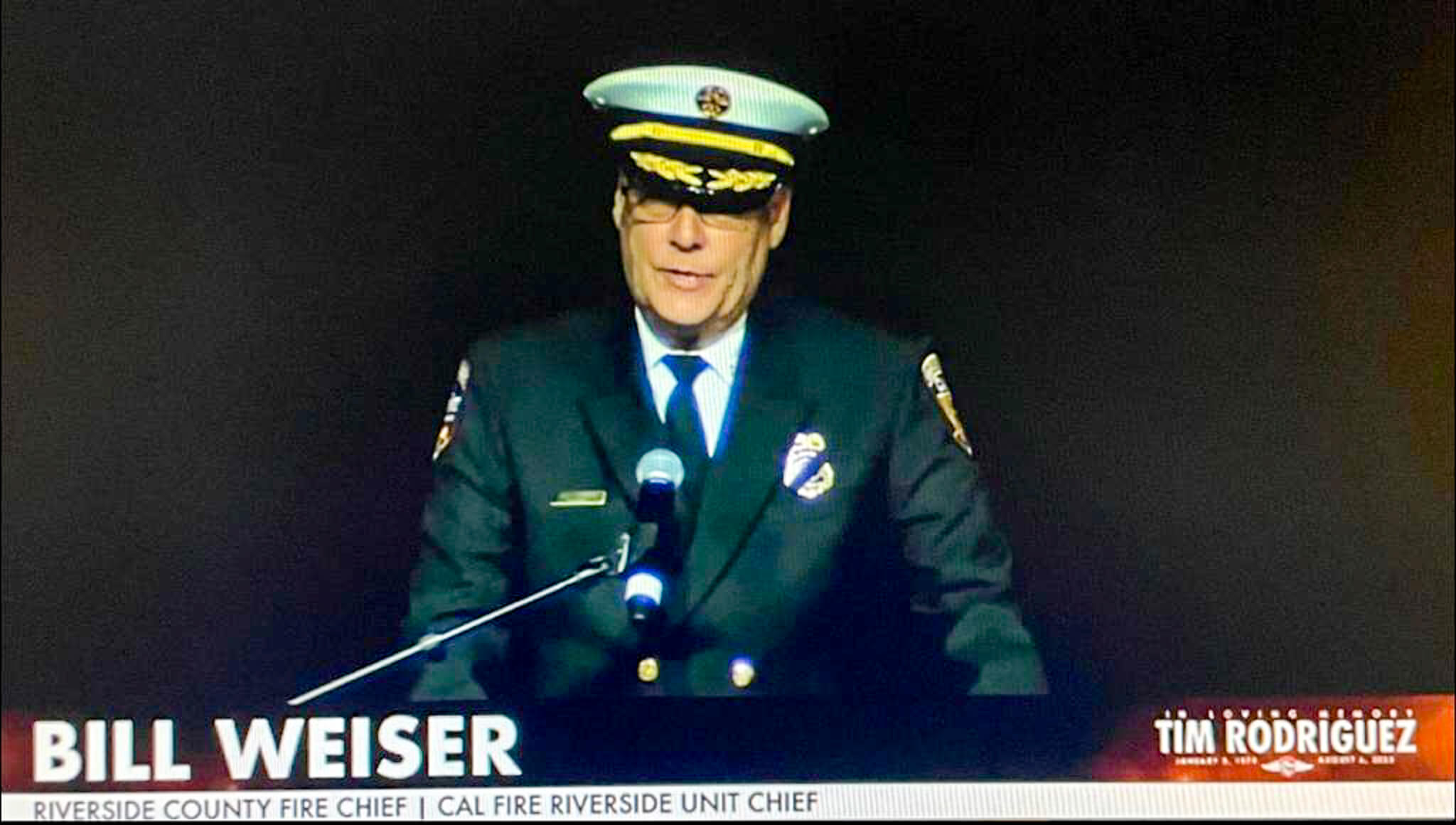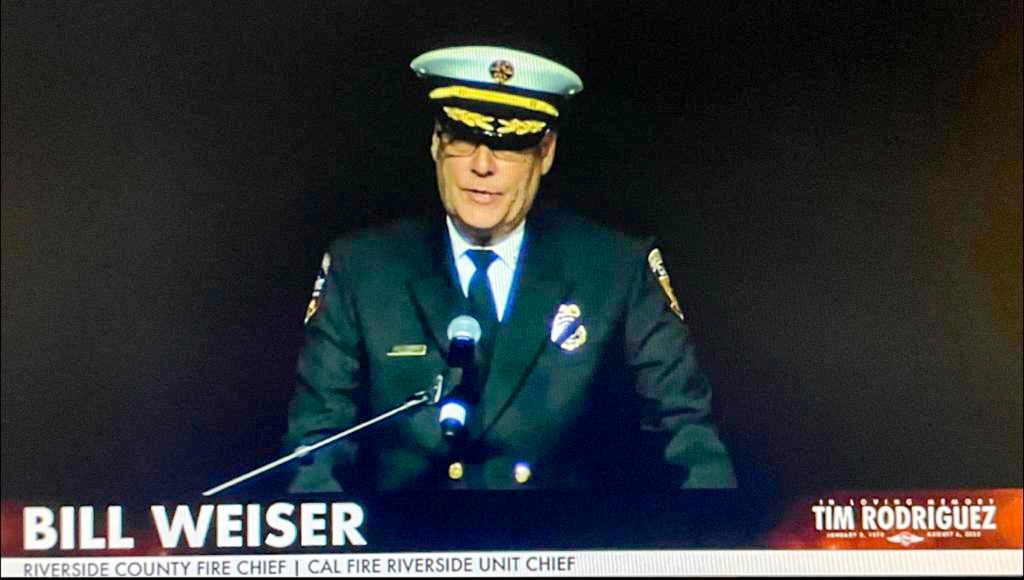 Riverside County Fire Chief Bill Weiser's eulogy painted a detailed picture of a talented, young man who would rise skyward in rank as his provisional, seasonal. helicopter assignments turned into permanent positions in the department's aviation operation.
"From his first flight, he was in love with our program," Weiser said.
During the middle of Rodriguez's career with the Riverside County Fire Department, he worked a variety of ground assignments to learn more about the system, Weiser said. But now a captain, T-Rod earned his dream assignment.
"In 2022, fire captain Tim Rodriguez transferred to Hemet-Ryan Air Attack Base — his love, in the fire service," Chief Weiser said. "Hemet-Ryan has a special place. Only the best and brightest get to go work there.
"No fire captain just transfers to Hemet-Ryan. They must be excellent firefighters and leaders. They must know and understand wildland firefighting strategies," he said. ". They must be able to perform rescues in the toughest of conditions."
Weiser said he spoke with many firefighters who had worked with Rodriguez over the years, all said that he was reliable, he was dedicated, he was solid, and he was cool.
"He was loyal, he was quiet, he was compassionate. Tim was a mentor," the Chief said.
"He set the example. He loved to fly.
"Tim had attention to detail. Tim believed in a strong firefighting team and ensured that he and his firefighters were always ready and prepared," he said.
However, first and foremost, Weiser said, people told him about Rodriguez's love for his family.
He adored his wife, Dorothy, he said, and Rodriguez was very proud of his children.
"Josh, Haley, Alexis," the Chief said as he looked at them seated in the front row. "He loved you all so much. And he told everybody about you."
"Tim brought out best in people around him," Weiser said. "His conduct in the way he lived his life in the fire service is an example for all the rest of us to follow.
"Cal Fire Riverside County will forever be grateful for the time we had with Tim Rodriguez."
"My sisters and I had the best dad you could ever ask for," his son Josh said in his own eulogy that followed.
"And we're also proud of him for living the life to the fullest — and never backing down from what he loves.
"Nothing will ever take him away from our hearts and minds," Josh said.
"He will always be our hero and our rock."
"I love you, Dad."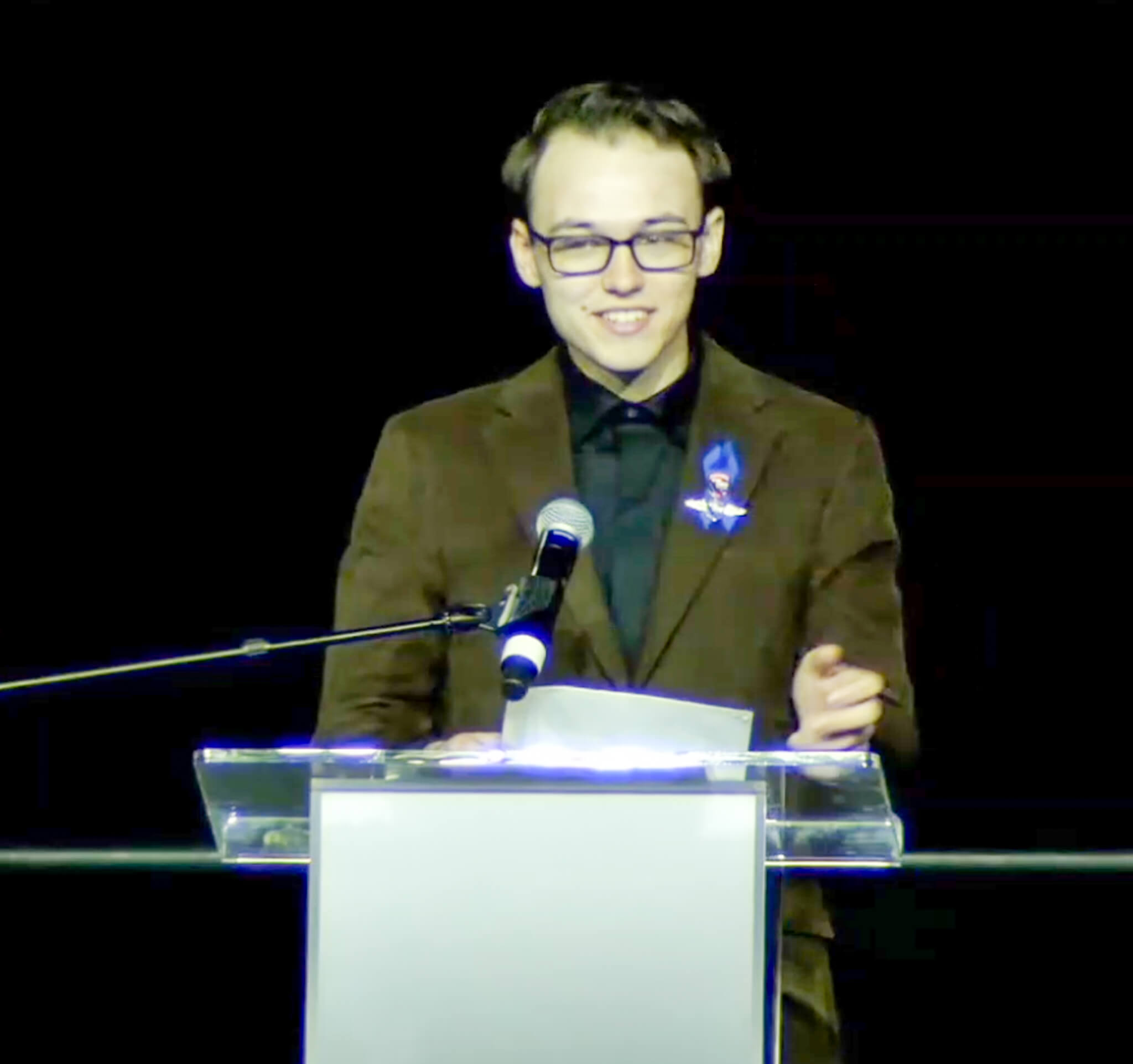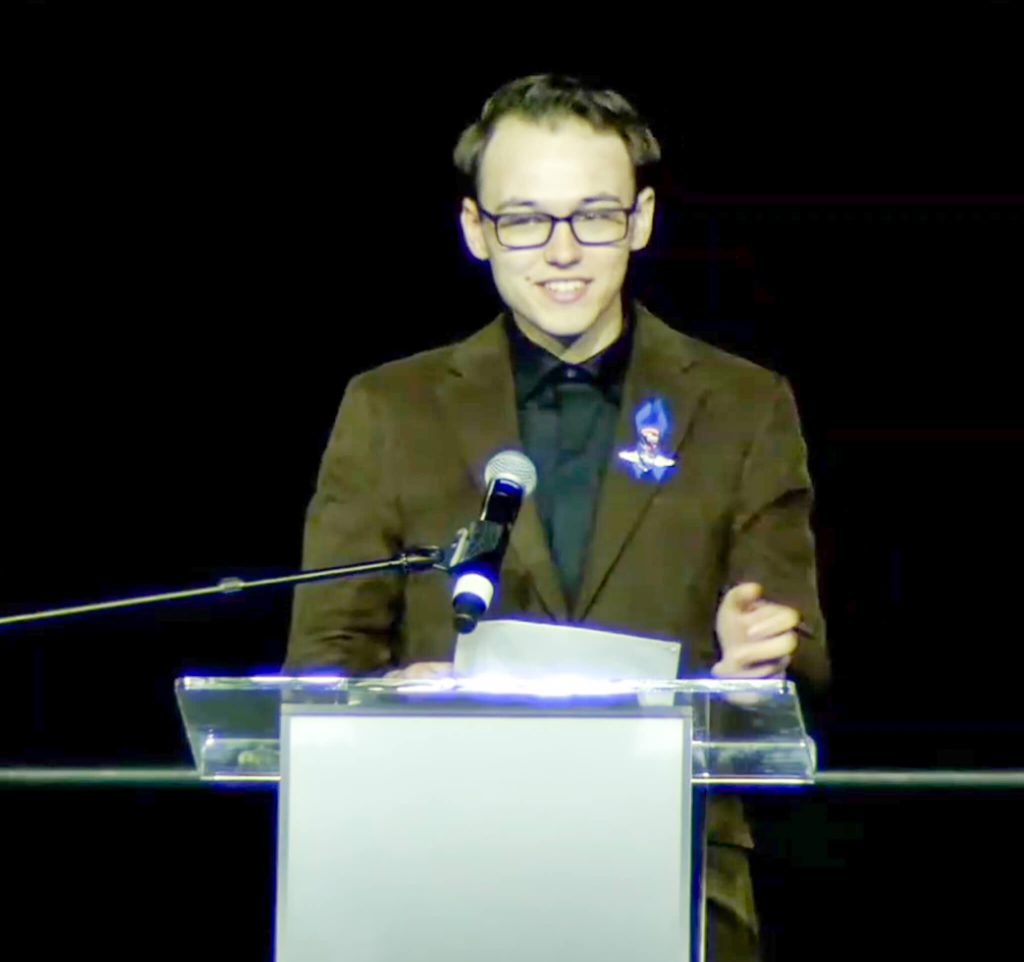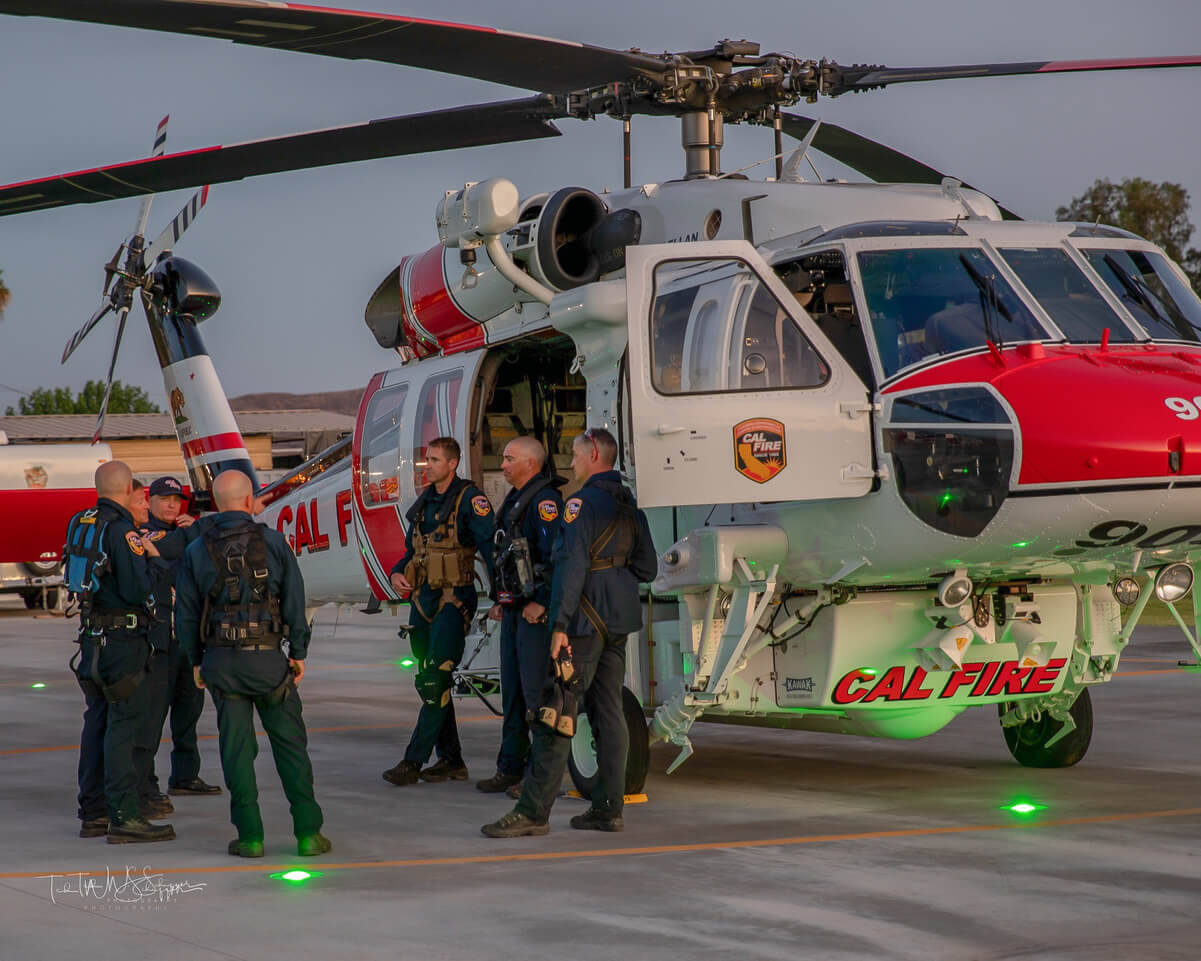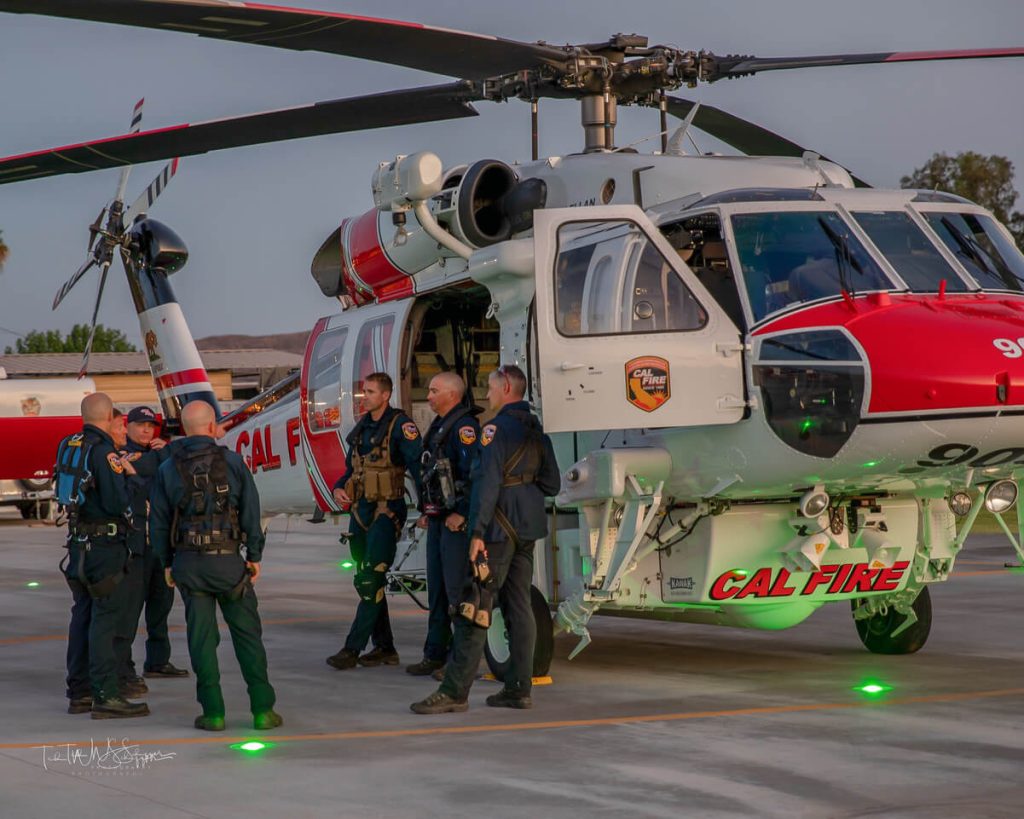 For More Local News Visit www.zapinin.com.