Cal Fire Sikorsky Tire May Have Hit Bell Rotor Blade
RIVERSIDE – Combined Sources – In a very preliminary report that describes the initial physical evidence found in the aftermath of the Cal Fire mid-air helicopter collision that claimed three lives last month, it appears possible that the landing gear of the larger Sikorsky aircraft may have collided with the main rotor of the smaller Bell chopper below it.
What has not been disclosed, is why the two aircraft were in the same airspace.
The National Transportation Safety Board (NTSB) on Friday released its preliminary report on the Aug. 6 crash that destroyed a Cal Fire Bell 407 helicopter in the area of Apache Trail and Pipeline Road.
Cal Fire Assistant Chief Josh Bischof, 46, of Menifee, Cal Fire Capt. Timothy D. Rodriguez Jr., 44, of San Jacinto and contract pilot Tony Sousa, 55, of Red Bluff were fatally injured in the accident.
According to the NTSB, the ill-fated flight departed Hemet-Ryan Airport at about 6:35 p.m. and headed to the Broadway Fire burning over a hillside on the west end of Cabazon. The report said a Cal Fire Sikorsky S 64 water-dropping helicopter departed Hemet-Ryan three minutes after the Bell, going in the same direction.
"The Bell … maneuvered northeast toward Cabazon," the report stated. "The Sikorsky … traveled northeast through mountainous terrain and continued northeast following descending terrain towards Cabazon."
NTSB investigators wrote that radar tracks provided by each helicopter's transponder indicated "both helicopters on a converging flight path, until the time of the collision."
There was no word on whether the pilots were communicating, on the same frequency, making position reports in the blind, or any other details that might give a clue as to why the midair collision occurred in daylight conditions, with 10 miles' visibility.
The choppers impacted at 6:44 p.m., causing the Bell to spiral out of control, slamming into "a steep and rocky hillside," where the fuselage erupted in flames, according to the NTSB.
Bischof, Rodriguez and Sousa perished at the scene.
According to the report, "the Sikorsky landed nearby without further incident. The right main landing gear tire was damaged, with an approximate 12-inch portion not located." The 2-person crew was uninjured and NTSB officials state the craft was otherwise undamaged.
Of the Bell aircraft, the report states, "The main wreckage was found about 45 ft east of the engine. The main rotor blades, mast, and transmission came to rest around 285 ft northwest of the main wreckage, upslope."
The Broadway Fire scorched 20 acres before it was knocked down that evening. No homes or other structures were damaged.
The NTSB's final report on the deadly collision will likely be released in the next 24 months.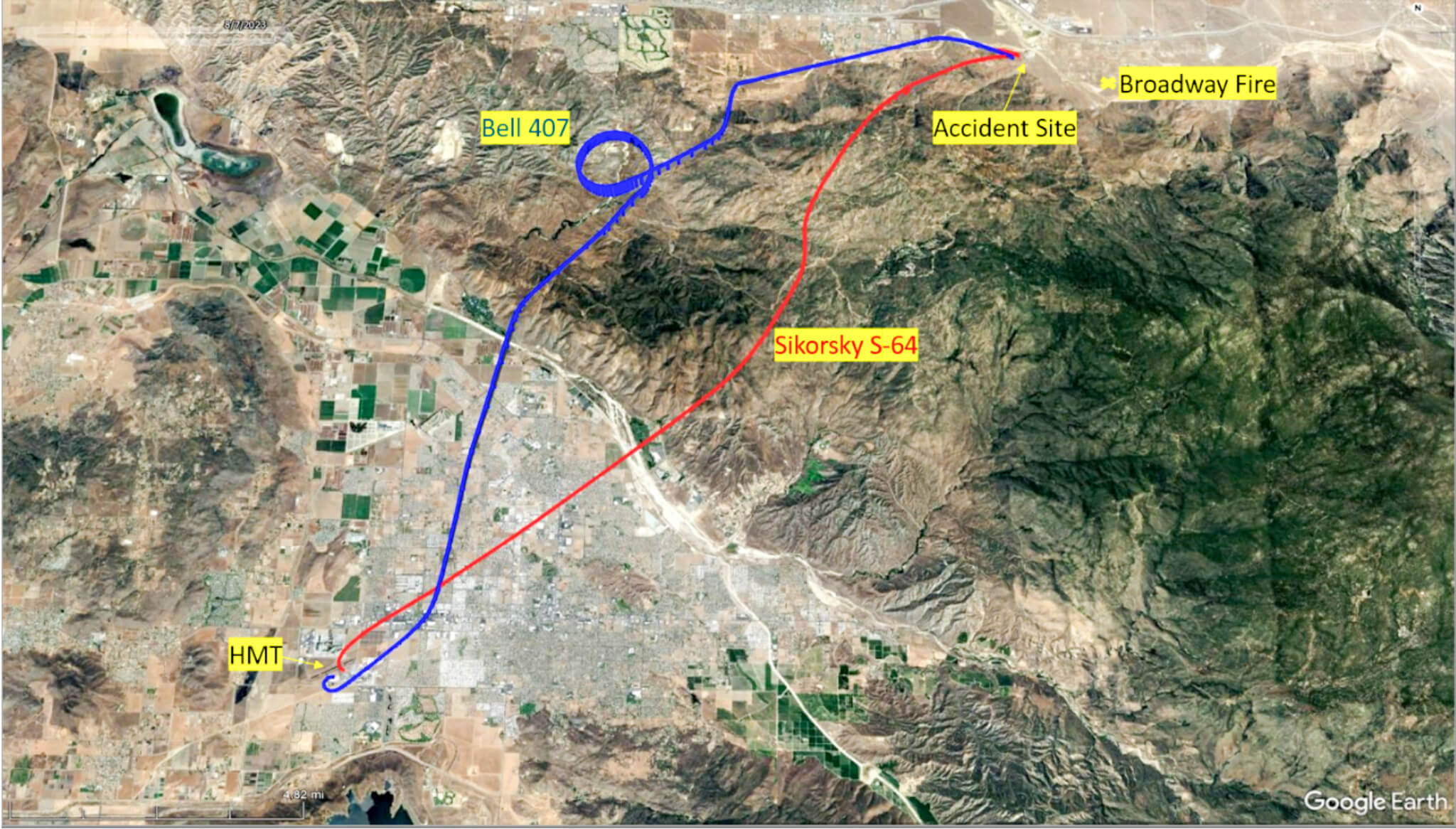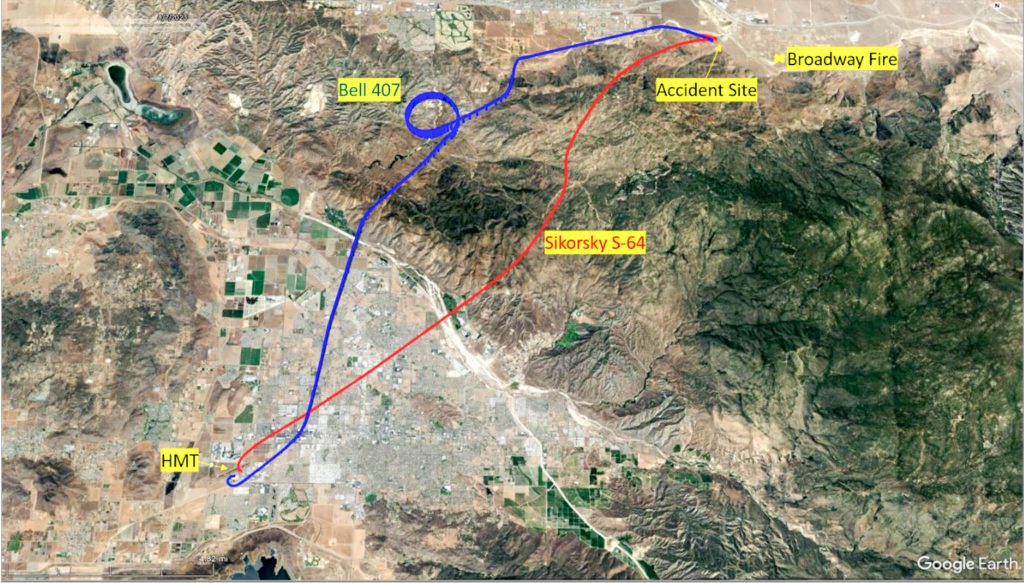 For More Fire Fighting News Visit www.zapinin.com/fire-season.