DannyLux Receives Key to Hometown
DESERT HOT SPRINGS – There is no question that DannyLux is an original. A trailblazer. As an internationally recognized songwriter and performer. He's all of 19-years-old.
Born Daniel Balderrama and raised in the Coachella Valley, Danny's garbage truck driving dad, grooved to rock classics, Pink Floyd, the Beatles, and the home state Eagles. His mother listened to regional Mexican music. Put a pin in those competing influences for a moment.
When young Danny was 7, his dad found what proved to be a treasure, a discarded guitar, which he brought home to his son. As with so many of the guitar rock gods of the past, he took to it immediately, as his mom enrolled young Danny to music lessons at their church.
And the first song he learned had a deep, classic Latin history, "LA Bamba." The original styling is "son jarocho " a regional folk sound from the Mexican state of Veracruz, the song dating back to the 1830's. More than a century later, it was made popular in the States by the late San Fernando Valley native, Richie Valens who recorded it in 1958. And its popularity soared in 1987 when Los Lobos recorded it for the Valens biopic, La Bamba.
A verse in the song translates to a man telling his fiancé, ""I'm not a sailor, I'm a captain," underscoring his ambitions. And young Danny Balderrama had big ambitions as well.
In a 2022 profile in Spin, he's quoted as revealing that the life of the late Pacoima singer Valens, killed in a plane crash with other performers in 1959, made an impact on him 6-decades later.
"Like him, I want to be able to inspire people to do whatever they want to do. To create their own sound that's unique to them."
And create his own sound he has. Remember the differing influences of his parents, his father's classic rock and mother's regional Mexican musical roots? Now writing and performing as DannyLux, and relying on his first language, Spanish, he has blended the two into classic rock influenced, storytelling corrido's that have drawn an international following.
Launching on the contemporary showcases, TikTok and Instagram during the pandemic, with time he went viral, and his life changed. Dramatically.
This past April, to rave reviews, DannyLux performed both weekends 'down the street' at the Coachella Valley Music and Arts Festival. And in a unique encore and homage to his Mexican-born parents, brought is dad Oscar on-stage, a nod to how quickly life can change. Oscar was once on the clean-up crew after a previous festival had ended.
And as the accolades continue, this past Tuesday, DannyLux was presented the key to his hometown, Desert Hot Springs. Just 19 years after his birth, he was asked to lead the city's holiday parade this December, offered with a sheepish request from Mayor Scott Matas, to maybe, please, possibly add a brief performance as well?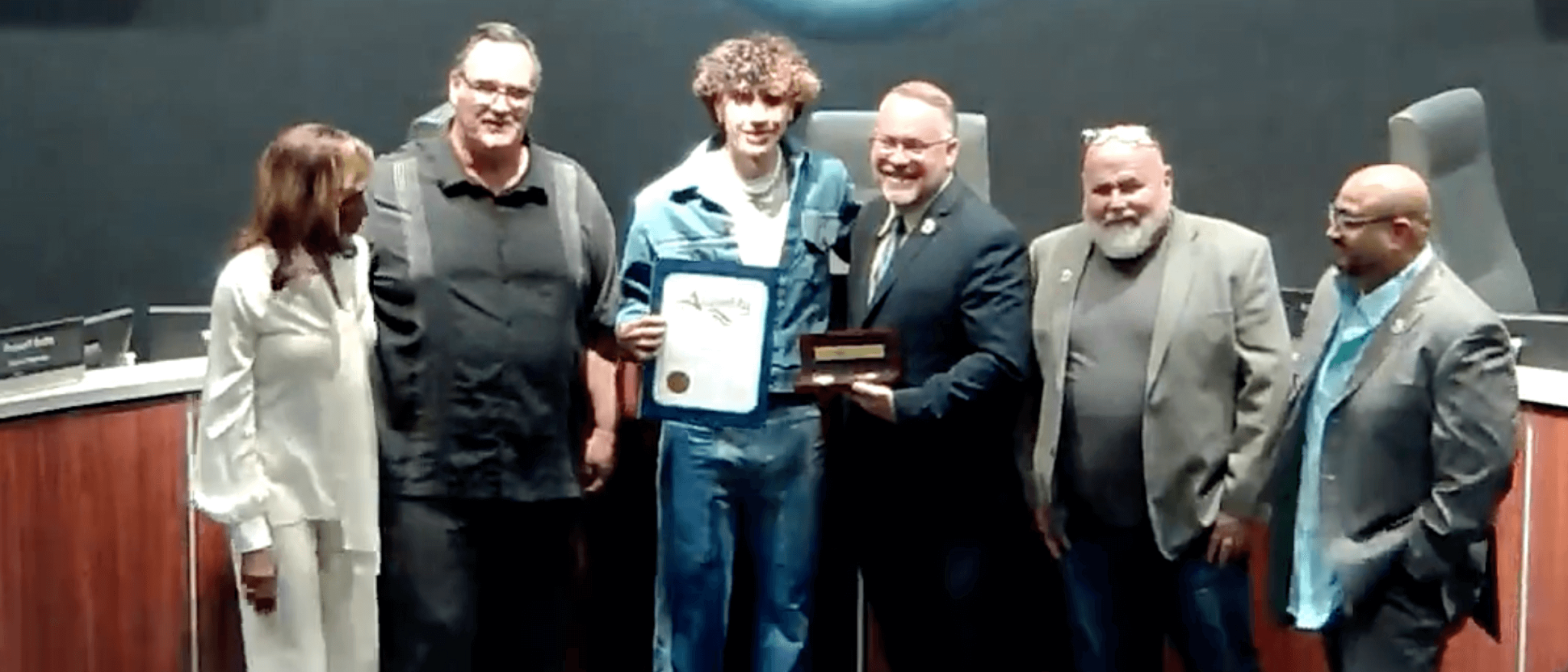 For More Entertainment News Visit www.zapinin.com.