LOS ANGELES (CNS) – Gloria Molina, a pioneer Latina politician who
served on the Los Angeles County Board of Supervisors for more than two decades
following terms in the state Assembly and on the L.A. City Council, announced
today she is battling terminal cancer.
In a Facebook post, the 74-year-old Molina said she has been receiving
treatment for three years, but that, "at this point, it is very aggressive."
"I've lived a long, fulfilling and beautiful life," Molina said in
the post, which is addressed to "dearest friends and beloved community."
"You should know that I'm not sad. I enter this transition in life
feeling so fortunate. I have an amazing and caring family, wonderful friends,
and worked with committed colleagues and a loyal team. Throughout my life I've
had the support of many people."
Molina, who grew up in Pico Rivera, was active in the early days of
the Chicano movement, becoming an advocate for women's health issues — which
she continued into her elected offices. At one point, she founded a Nurse
Mentoring Program through local community colleges to address a nurse shortage.
She first won elective office in 1982, winning the 56th Assembly
District seat and becoming the first Latina elected to that body.
She won the City Council's First District seat in 1987, and was
elected to the Board of Supervisors from the county's First District in 1991,
becoming the board's first Latina member. She served there until 2014.
"I'm really grateful for everyone in my life and proud of my family,
career, mi gente, and the work we did on behalf of our community," Molina said
in her post.
She continued, "I have a great daughter, son-in-law, a precious
grandchild and another one on the way. I'm so excited! I am very appreciative
of the doctors, nurses and health care professionals at City of Hope. … They
have taken good care of me.
"Most of all, I am fortunate to have this time to spend with family,
friends and those who are special to me. Thank you all for your love and
support."
The post was signed with a heart emoji.
Upon hearing the news of Molina's illness, Eunisses Hernandez, the
current L.A. City Councilwoman from the First District, said in a statement to
City News Service, "We stand on the shoulders of the giants who came before us
and Supervisor Molina is one of a kind."
"She blazed the trail for women — and especially for Latinas — in
local government and we owe her a debt of gratitude for her decades of service
to our City and our County," Hernandez said. "I join all Angelenos in
offering her my prayers and support during this time."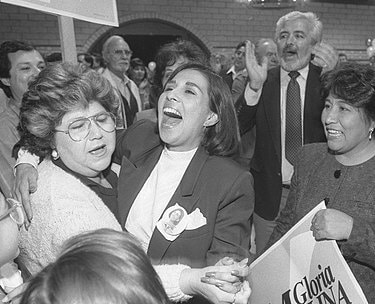 More news on zapinin.com